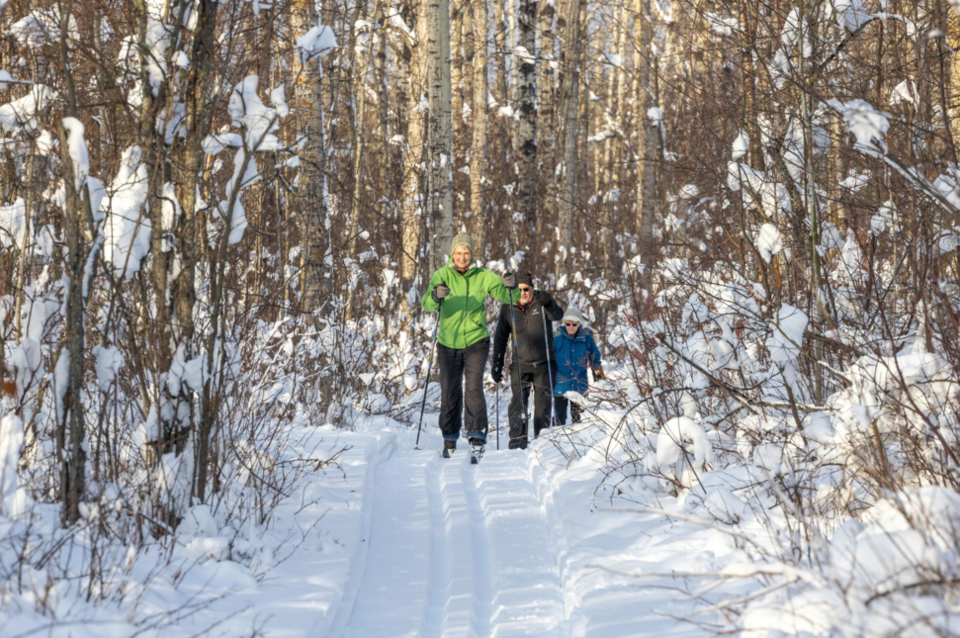 Walking through the doors of the Crooked Creek General store, there's a flurry of activity at the counter. Groups of people are in line to buy by the dozens – doughnuts from plain sugar to glazed and chocolate flecked with colourful sprinkles.
A man leaves the store arms piled with boxes, at least four dozen of the country style doughnuts the store is famous for in these parts. The general store has been around since the 1940s, and is now run by a local couple whose mother is the master doughnut-maker.
As I leave with what I'm calling the best doughnut I've ever eaten, back on Highway 43 between Grande Cache and Valleyview, I'm feeling regretful for not buying a dozen of these perfect road snacks for our winter road trip exploring the region.
But there's no time for regret as we continue on our way to Young's Point on Smokey Lake, just one of dozens of places in Greenview, two hours south of Grande Prairie and four hours north-west of Edmonton, where you can get blissfully lost in raw nature miles away from other humans.
If you're looking for a less-travelled road trip this winter that will blow you away with mountain vistas, rolling meadowlands, and an insane amount of outdoor space for snowshoeing, cross-country skiing, and hiking, Greenview's vast landscape will keep you busy exploring for days. (Be sure to keep your eyes peeled for moose.)
Here's how to explore the MD of Greenview over a few days.
Grande Cache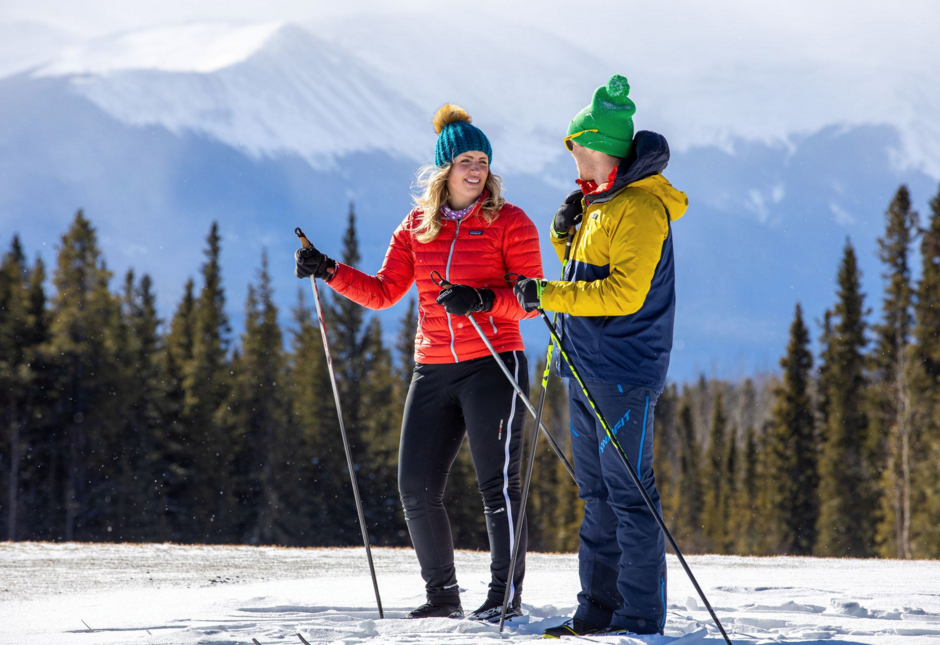 A couple ski the trails at Grande Cache Municipal Golf Course and Campground.
Rent snowshoes or cross-country skis at the Grande Cache Visitor and Tourism Information Centre, and get out on the trails. While there, get a lay of the winter landscape and activities from the folks who know where the locals go to play in the snow. The centre also offers beginner cross-country and snowshoe sessions.
"We are a hidden gem," says Jenny Daubert, who works at the centre and moved to Grande Cache about seven years ago from Calgary and fell in love with her new home. "This is now my place on the planet … the mountains never look the same."
Some of the trail highlights for cross-country skiers include Pierre's Gray Lakes, Grande Cache Municipal Golf Course and Campground, Beaverdam Road and Sulphur Gates.
Young's Point/Valley View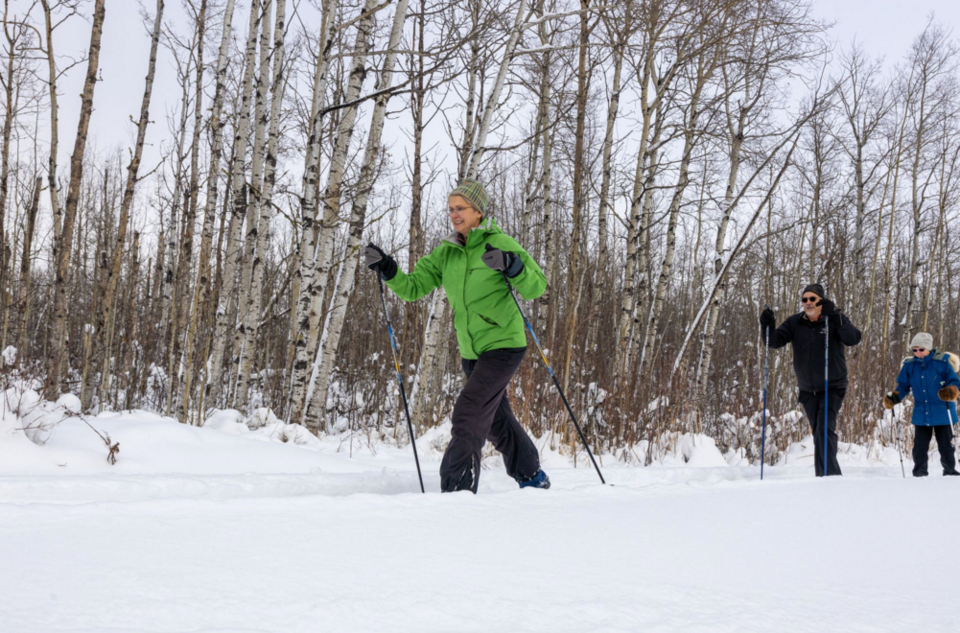 You can often have the 10 kilometres of ski trails at Young's Point all to yourself.
You might be surprised that you're still in the MD of Greenview as you drive north of Grande Cache, about three hours to the gentle and rolling landscape of Young's Point, a provincial park along Sturgeon Lake, and an excellent spot for Nordic skiing.
The two areas "couldn't be more different," says Daubert. (Be sure to pop into Crooked Creek for those out-of-this world doughnuts.)
On our visit, we have the trails at Young's Point to ourselves; the only other human we can see is a lone ice fisher on the lake. The mid-afternoon sun glints through the aspens, as we glide through the trees on the track-set trails.
As the sun begins to set, the squawk of a raven breaks the silence. We feel like we could go forever on this calm, magical winter day. But we've got a date at a local distillery we're excited to check out.
The Crabbie Goat Distillery, housed in an adorable red barn-style building, is just the place to sample some spirits and creative libations dreamed up by Cheryl Gordon. She and husband Jamie own and operate the distillery, which sits on their 10-acre orchard, giving them the distinction of being Alberta's first farmstand distillery.
As we leave the distillery feeling a relaxed and satisfying kind of fatigue from our day on the Nordic ski trails, rejuvenated by all the unexpected moments we've had in what we are calling our new favourite place to escape the crowds and play in the snow.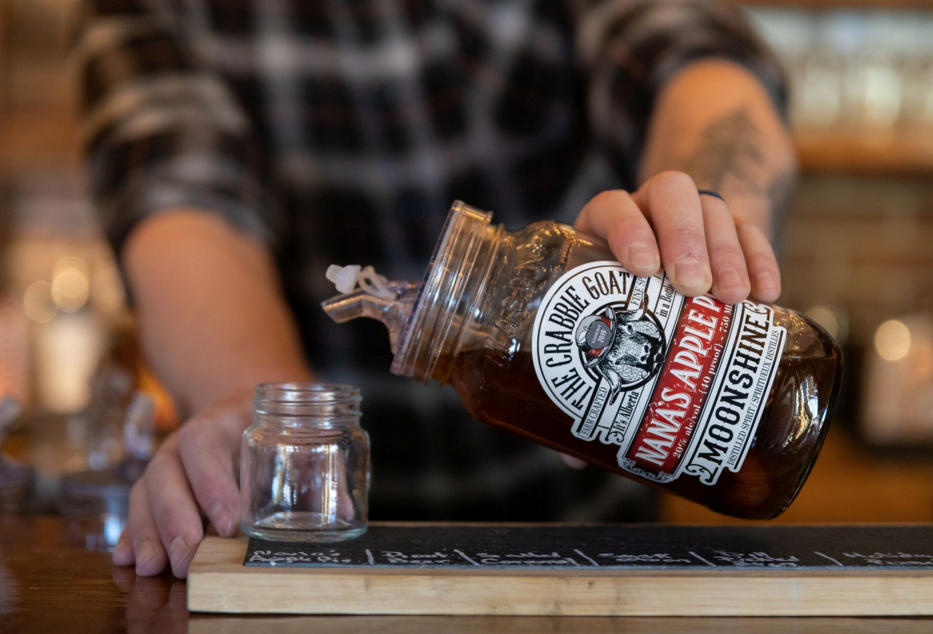 Sampling libations at Alberta's first farmstand distillery, Crabbie Goat Distillery.