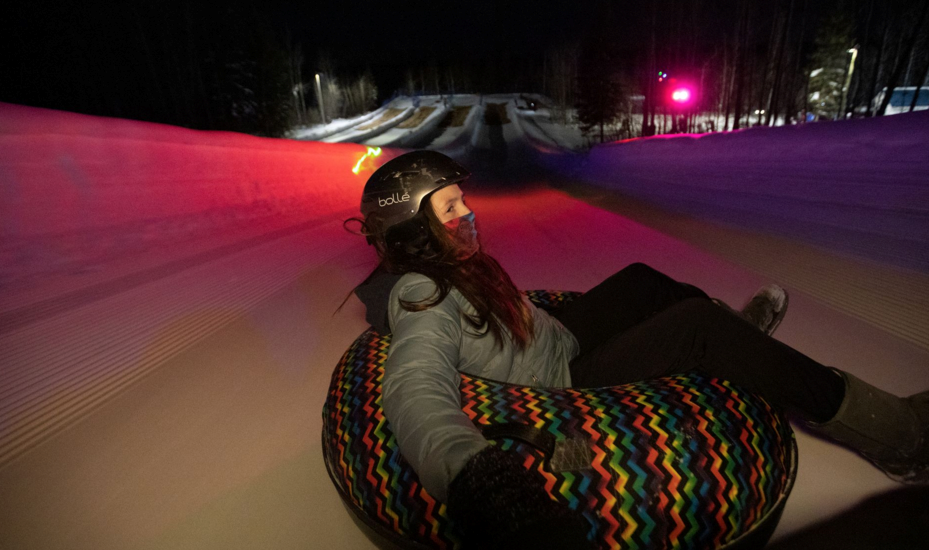 #SkiNorthAB #GoNitehawk
With black light LEDS, laser lights and multi-coloured spotlights, as well as some speakers to pump out the jams, Nitehawk has taken snow tubing to a new level. Friday and Saturday evenings, the Aquatera Tube Park is a buzzing place with people of all ages zipping down the 600 foot-long snow tubing runs. Excited screams and laughs whip the air, seeming to travel a little slower than the riders in their tubes. A quick magic carpet ride up, and you can reset and do it again and again
Matthew and Meaghan Vavrek and their kids, Ada and Callum (ages 11 and 12, respectively), were out to enjoy the park on a recent evening. "It makes it especially fun at night to have it lit up like that," says Matthew, "it made it more of a party atmosphere."
The mood here is optimistic, after a year and a half of woes for the hill going back to May 2020 when a landslide tore out the main chairlift and access to two-thirds of its terrain. The timing, just as the pandemic hit, couldn't have been worse. But what could have been catastrophic for this non-profit recreation venue turned into a success story, through careful planning, hard work, community and creativity.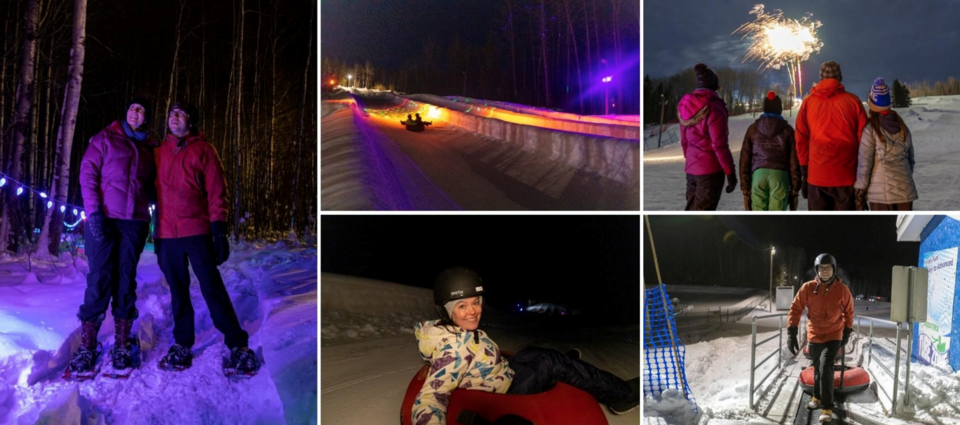 Snowshoeing, glow tubing, skiing - there's all kinds of night time fun at Nitehawk.
Replacing major infrastructure doesn't happen overnight. So while the hill's non-profit board and operating staff went about figuring out how to replace the lift and restore over half their terrain, they also came up with new experiences and offerings that would allow Grande Prairie locals to get out and enjoy the outdoors.
Read the full story on SnowSeekers.ca.
Thus, glow tubing was born. Floodlights already lit up the hill for night skiing, supporting local freestylers, racers and recreationalists. But with the pandemic, more families and couples were seeking evening activities outside. It was a (pardon the pun) lightbulb moment for Nitehawk.
In the ensuing months, a new snowshoe experience was created (including a lit-up, nighttime experience there as well) and February 2022 marks a major milestone for the hill, as the new t-bar is set to begin spinning. A big swath of terrain is becoming accessible again in less than two years from the slide, and that's no small feat. Nitehawk may be its name, but this ski area is a phoenix, and the good times are rising.
Nitehawk's glow tubing experience features black lights, lasers, colourful spotlights and music.
PLAN YOUR TRIP
Read the full story at SnowSeekers.ca. Book ahead for Nitehawk glow tubing (Fridays-Saturdays), snowshoe rentals or ski lessons. Book early for glow tubing - it's the first thing that sells out every week.
When you go, be sure to take advantage of #SkiNorthAB savings, and check out all the other great adventures you can have.