BC Hydro says a round of layoffs at the Site C dam construction site are unrelated to an emerging geotechnical issue that saw around 30 workers reassigned to other jobs.

Slide experts are monitoring a 400-metre "tension" crack that has formed along a haul road on the north bank of the Peace River, BC Hydro said in a Feb. 24 new release. The crack led BC Hydro's contractor on the $8.8 billion hydroelectric project to reassign 30 workers while the area is assessed.

In an email, BC Hydro spokesperson Craig Fitzsimmons confirmed 33 employees have also been laid off, but said the layoffs were not linked to the tension crack issues.  

"There were unrelated layoffs by Peace River Hydro Partners – which can happen as certain scopes of work change," Fitzsimmons said.

Specifically, the contractor was able to reduce the number of trucks needed after installing side board that increased each truck's carrying capacity.

"The layoff is not a termination and Peace River Hydro Partners hopes to provide future opportunities for these workers," Fitzsimmons wrote.

Around 1,500 people are currently working on Site C, according to BC Hydro.

Emerging geotechnical issues

The tension crack is first time a news release has been issued about a geotechnical issue on the dam project since construction began in summer 2015.

Construction crews have built haul roads on the north bank of the Peace River near Fort St. John to carry fill, stone and other materials to the dam site in the valley. Around mid-February, contractors noticed a crack had formed along a length of road.

"During the construction of a haul road to support this excavation work, a tension crack has appeared" on the north bank of the dam site, a release reads. While such cracks are not unexpected in the area, "this particular crack requires attention due to its significant 400-metre length," BC Hydro says.  

Opponents of the $8.8 billion project have warned Site C could suffer slides, shears and other geotechnical issues.

Arthur Hadland, a former regional district director and agrologist, said multiple reports have highlighted the complex geotechnical issues in the Peace River Valley.

"It's not if it will slide, it's when it will slide," he said. "The whole thing's just going to slump in (the reservoir) in a muddy mess."

The Joint Review Panel that reviewed Site C noted a number of terrain hazards identified by BC Hydro engineers, including the potential for slides.

"At the dam site, BC Hydro determined that the north bank had a moderate to high likelihood of landslide following disturbance and the south bank had a low likelihood," the report noted. "BC Hydro concluded that appropriate slope stabilization methods at these locations would prevent potential slides that could have an adverse effect on the project."
A BC Hydro report carried out by Ernst & Young last year found Site C would likely remain on time and on budget, but warned about geotechnical problems. Despite significant geotechnical work in the lead-up to construction, "it is impossible to understand every nuance of the sub-surface conditions of such a large site," the report found.

"As a result, unforeseen problems have arisen, and will continue to arise, requiring innovative engineering responses to contain cost increases," the report found.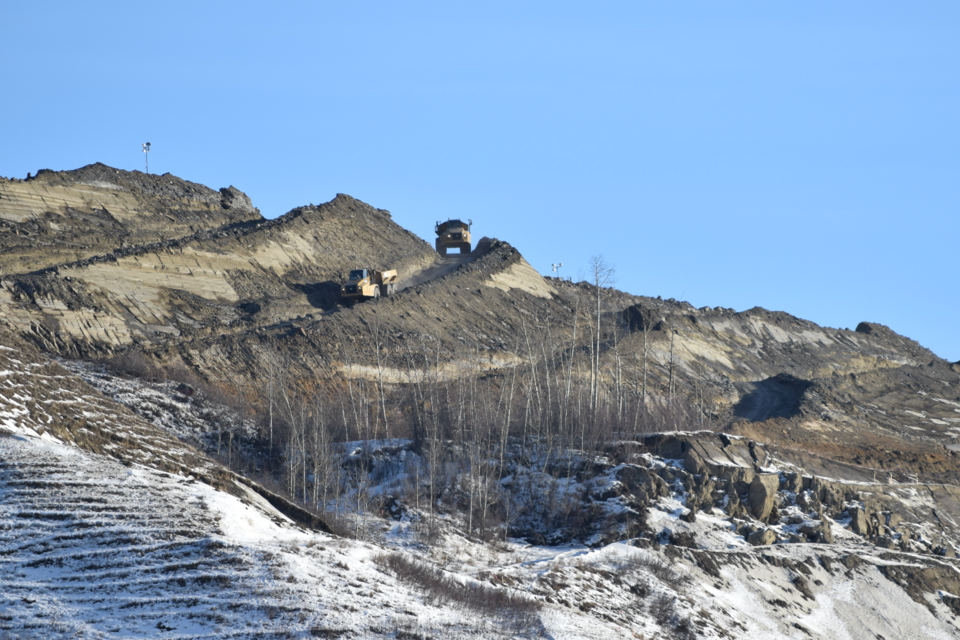 The project has $440 million set aside in reserves to cover geotechnical and other issues.

BC Hydro believes initial soil movement on the north bank has stabilized. Crews had planned to remove the unstable soil as engineering work continues on the banks. The next step "is to determine how to continue soil removal, which will need to be undertaken carefully to maintain the stability of the slope."  

Site C would flood 83 kilometres of the Peace River Valley, including farmland and First Nations cultural sites.

B.C. NDP leader John Horgan has said he would send the project to the B.C. Utilities Commission for further review if his party forms government after the May 9 election.

Dam site itself not a concern, minister says

In a conference call with reporters Feb. 28, Energy Minister Bill Bennett said he was not concerned about geotechnical issues at the dam site itself, located downstream from the tension crack.

His main concerns were worker safety and whether the crack would delay construction.

"The tension crack is not close to where the dam is actually going to go, and that whole slope is going to be recontoured," he said. "It's much too steep right now. Everyone knew that going in, (so) it's not a surprise that there's been a slump in that steep bank. But it does have the potential to change the schedule, and that's the piece I'm most interested in."   

He said BC Hydro is reviewing whether the crack will impact construction timelines.

"This is not a situation where we had the earth move in the exact location the dam is going to be. Not the case," he added. "The dam is going to go in against bedrock…this is not an issue of the dam being stable or unstable, this is an issue of unstable soils on a steep bank that have moved, and how do we recontour that bank and stay within the schedule of the project?"
 
reporter@dcdn.ca