More than 1,200 British Columbians were working on the Site C dam as of May 2016, but Peace Region residents made up less than one-third of the total workforce.
Local MLAs Pat Pimm and Mike Bernier announced the "employment milestone" of the B.C. workforce at the dam site Wednesday afternoon.
As of May, BC Hydro reported 1,547 workers on the project, with 1,223 of them from B.C., or 79 per cent of the overall workforce. It's the first time the provincial workforce has exceeded 1,000 people.
Of the provincial workers, 443 were from the Peace Region, or 36 per cent. Of the total workforce, Peace residents make up around 28 per cent.
"That's great news," Pimm said. "The Northeast has been affected by the slowdown in oil and gas, and Site C construction is providing job opportunities at exactly the right time."
Thousands of people dropped off resumes at Site C job fairs held in Northeast B.C. earlier this year, and just how local workers and businesses would benefit from the $8.8-billion project has been a key question in the debate over Site C.
The monthly unemployment rate in Northeast B.C. has averaged around 9.2 per cent so far this year, from a low of 8.5 per cent in January to a high of 9.7 per cent in March. Unemployment sat at 9.6 per cent in May, while June statistics have not yet been released.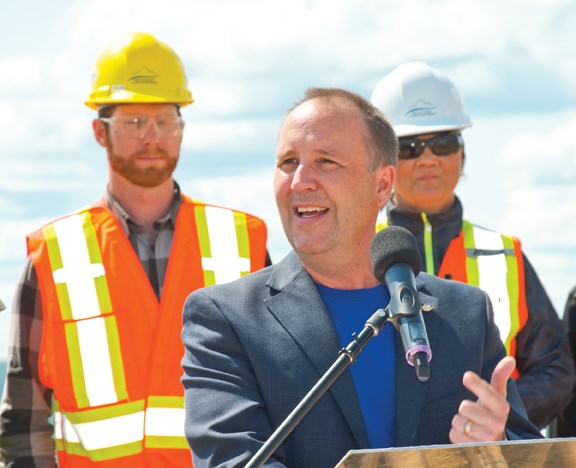 BC Hydro says Site C workforce numbers so far include carpenters, truck drivers, crane operators, safety officers, labourers, mechanics, electricians, work camp staff, and other project workers including construction supervisors and environmental workers.
"I'm very pleased to see there are now more than 1,000 British Columbians working on the Site C project," Bernier said.
"And we're building this project together, with union and non-union workers both benefitting … In fact, this project will provide an important economic boost for almost a decade during its construction."
BC Hydro says Peace River Hydro Partners--the consortium awarded a $1.75-billion contract to build the earth-filled dam and tunnels to divert the flow of the Peace River, as well as the concrete base for the generating station--"expects to have 600 workers on site this fall" as its construction activities ramp up. 
"We're thrilled to have started the physical work on main civil works for Site C," said John McPherson, the earthworks and dam construction director for Peace River Hydro Partners.
"We're committed to local hiring on Site C. That's why we participated in job fairs throughout the region earlier this year."
BC Hydro says eight unions are currently involved with the project, with another 10 unions expected to join in on the work installing the turbines and generators for the dam.
'Pleasantly impressed'
Tony Zabinsky, president of the Fort St. John & District Chamber of Commerce, was "pleasantly impressed" by the numbers released today.
"If you look at May being 1,547 workers on the project and us having 443 from the Peace Region, it shows that our local employees and specialized (workers) are able to get work on that. That's great," he said.
"There will be times where we don't have specialized candidates to do some of that work and as we start moving that sliding scale further along, those numbers are going to change."
For example, the workers needed to execute the $470 million contract to install the dam's turbines and generators will likely need to be found outside the region, he said.
"I don't think we're going to have that many specialized people in that area. That's going to change the dynamics of this."
While Zabinsky couldn't say how many local businesses have work tied to the dam, he did say Chamber members know dam-related work is only going to be "an arm of their  business."
"No one is expecting for them to generate all their revenue from the dam. That piece of the pie the dam is offering of the present workload is tough to get into," he said.
"You still have to deal with the main proponents that have been given the work. They have certain guidelines and there not at (full staffing).
"That being said, as they start going … we hope the local contractors and local businesses can sit down and reach out and hopefully be part of that workforce."
Zabinsky added that he hopes local contractors with work already at the dam, be it logging or helping build the work camp, will be able to get new work as phases of construction are completed.
70% standard
In late May, Energy Minister Bill Bennett said more than 100 Fort St. John businesses have work tied to the dam, and that the province has averaged around 70 per cent of the workforce being B.C. workers.
"It goes up and down each month. I think 70 (per cent) is probably a minimum (standard)," he said. 

During a site visit at the time, Bennett said he had the chance to talk with several local residents working on the project during his tour.
"There was one man, a middle-aged man, who has spent time working in Russia in the oil and gas industry and just recently came back from Africa and now he's back here and he's able to spend time with his 15-year-old son because he has work back here," he said. 
"I talked to another young lady who was working in the oil and gas industry and got laid off, and she's now working full time at Site C. Those are the stories we like to hear, and frankly one of the main reasons that our government decided to build the project, over and above the fact that it gives you relatively cheap, clean electricity, is because of the economic development factors and the jobs."
editor@ahnfsj.ca