BC Hydro is seeking permission to clear 1,230 hectares of trees and vegetation in the Peace River Valley as work ramps up on the controversial Site C dam project. 
The utility has applied to begin clearing upstream from the dam site, located just outside the City of Fort St. John, according to a report included on the latest Peace River Regional District (PRRD) agenda. 
The licence of occupation would allow crews to begin clearing land for the eastern section of Site C's 83-kilometre reservoir. The provincial government quietly removed some of the Crown land from the Agricultural Land Reserve in 2015. 
Vancouver's Stanley Park, for comparison, is around 400 hectares. 
The licence would permit a big ramp up in construction on the $8.8-billion project, approved in 2014. 
According to the PRRD report, clearing around the dam site itself is nearly complete. The next step it to begin logging and clearing land up the valley towards Cache Creek—a small rural community along Highway 29.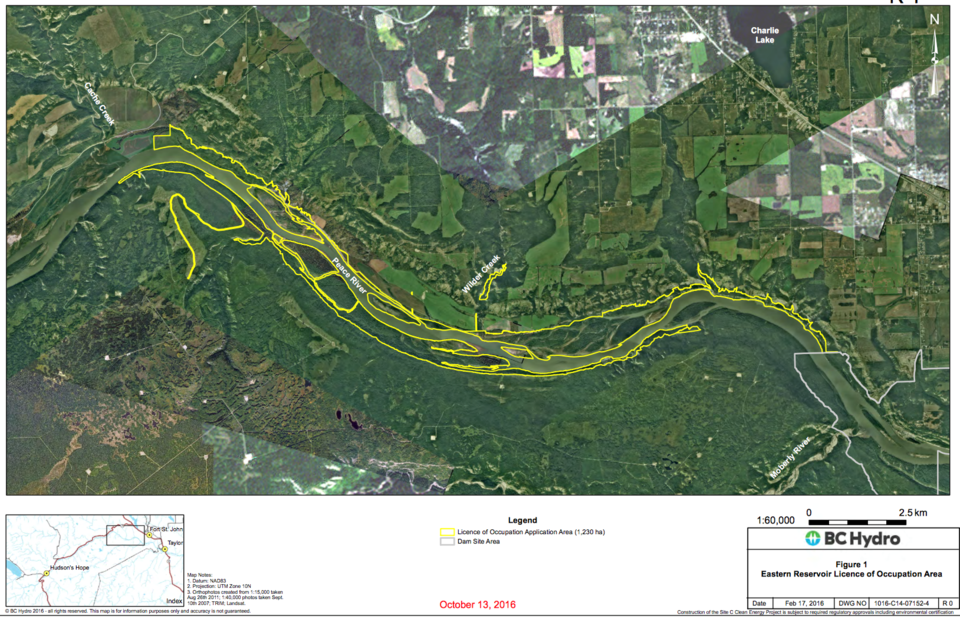 The licence would allow for the clearing of vegetation, saleable timber, and the construction of access roads on both sides of the Peace River. The work was set to begin this August, according to a BC Hydro document, and is expected to take five years. 
Peace River Regional District directors will have the option of commenting on the licence at the Oct. 13 board meeting in Dawson Creek. However, the PRRD does not ultimately approve the licence, which is granted by the province. 
—this is a developing story that will be updated as information becomes available.
reporter@dcdn.ca
Site C reservoir clearing land referral report by Jonny Wakefield on Scribd