The Site C workforce grew by more than 1,000 in June, as construction ramped up after a two-month shutdown during the COVID-19 pandemic.
BC Hydro reported 4,324 workers for the month, which it said reflected its May 14 decision to ramp construction activities back up at the dam site. A significant portion of construction was suspended in mid-March due to the pandemic, and the workforce was slashed by more than half as construction wound down primarily on the powerhouse and spillways.
Of the June workforce, around 19% was local, with 608 Peace region residents employed as construction and non-construction contractors, up 217 month-over-month.
Locals made up 23% of the construction and non-construction workforce total of 3,580 workers, which includes work at the dam site, on transmission corridors, reservoir clearing, public roadworks, and camp accommodations.
There were 2,417 B.C. workers, or 68%, working for construction and non-construction contractors, and in engineering and project team jobs.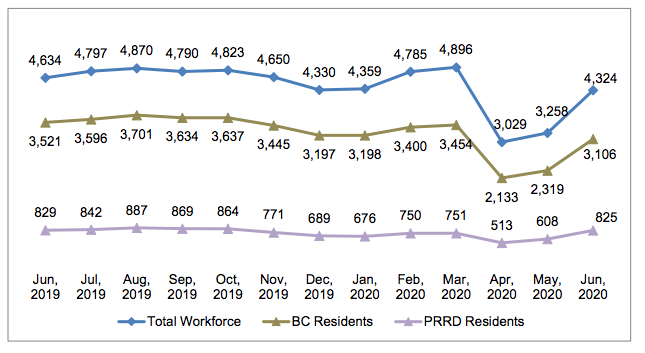 BC Hydro reported 147 apprentices for the month, up 86 from May, as well as 305 indigenous workers (+116), and 426 women workers (+83) on the project.
There were three temporary foreign workers employed in specialized positions (no change), and another 49 managers and other professionals working under the federal international mobility program (no change). 
As of Aug. 6, there were 1,478 workers reported at the camp outside Fort St. John, including one in self-isolation.
BC Hydro says a worker who tested positive for COVID-19 in July was cleared to leave self-isolation. No other cases have been reported at the project.
Email Managing Editor Matt Preprost at editor@ahnfsj.ca.