Amid the uncertainty surrounding liquefied natural gas (LNG) export facilities on the B.C. coast, one tiny project planned for the Howe Sound is poised to be the first to make a positive final investment decision.
In an interview Thursday in Dawson Creek, Woodfibre LNG's Vice President of Corporate Affairs Byng Giraud doubled down on the company's commitment to make a decision on the project by the end of this year.
"The market's tough," he said. "Guys are dropping off. We're still very much in the hunt. There's lots of bad news stories out there about LNG (but) this game is not over."
While Giraud hinted that the project would be a "good news story" for B.C.'s nascent liquefied natural gas industry, there are a number of hurdles the project has yet to clear. 
A tentative agreement is in place for 50 per cent of the facility's planned output of 2.1 million tonnes of LNG per year, but discussions continue as the company attempts to find buyers for the rest of the gas.
The only LNG project slated to be fully powered by the electricity grid, Woodfibre still needs to reach a power purchase agreement with BC Hydro. 
And because of a significant dip in the price of natural gas over the last two years, Woodfibre has to re-engineer a large portion of the project. As a result, the province's energy regulator, the B.C. Oil and gas Commission, has yet to grant permits for the construction of the facility. 
Finally, although FortisBC's Eagle Mountain pipeline was granted provincial environmental approval this week, the details of how the gas will be transmitted through the pipeline to the project still need to be finalized. 
So what makes it the frontrunner? 
Because of changes in the price of natural gas, significant re-engineering work on the project has been done with the help of Houston-based KBR. This reduced the project's capital cost (originally $1.8 billion) significantly, according to Giraud, although he could not confirm an exact number.
Environmental approvals have been granted from both the provincial and federal governments and the company has taken "unprecedented" steps to work with local First Nations, including allowing the Squamish First Nation, to decide how portions of the project will be designed.
"I have been working on industrial projects most of my life," Giraud said. "Our willingness to adapt to the needs and desires of local First Nations and the local community shows our sincerity here. B.C. is a tough place to build so, if you are going to build here, you are going to have to go that extra mile. People are giving us a lot more credit than maybe they did three years ago."
Giraud added that he "does not fear" the remaining hurdles.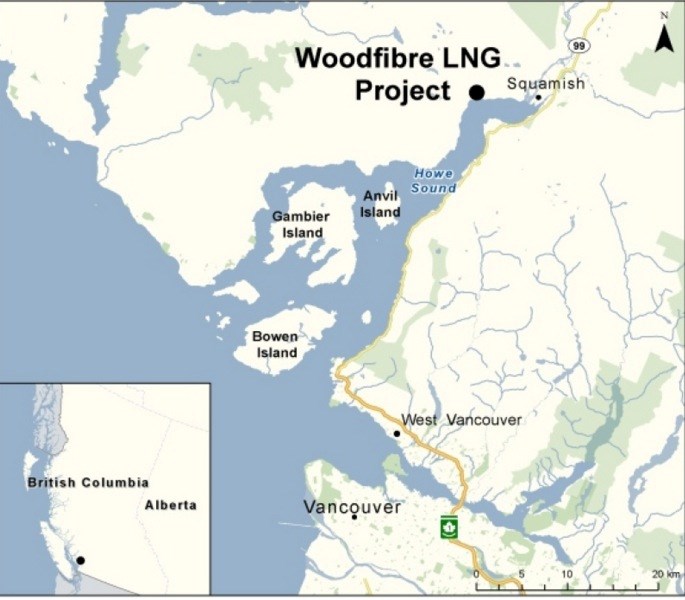 The project is about one-ninth of the size of some of the larger proposed LNG export terminals, like the Petronas-led Pacific NorthWest project. Still, Giraud says having one export facility built on the B.C. coast could have impacts on other planned export terminals.
"I think it puts B.C. on the map as an LNG exporter and it creates pressure for other projects," he said. "There is a perception out there of, 'can B.C. build stuff?' The Japanese and the Chinese, in their parts of the world, look at us and we hear that question."
What's next?
Woodfibre has yet to apply for a 15-year extension to its 25-year export licence granted through the National Energy Board. 
The timeframe extension was granted just before the last federal election and has already been approved for other projects such as the WCC LNG project and Shell-led LNG Canada proposal. 
Pacific NorthWest has applied, but has not yet received approval for the extension of its export licence.
"That'll help with the economics of the project," Giraud said. 
Woodfibre will need to secure a source for the gas as well.
Because its expertise is in downstream operations (it partly owns an LNG receiving terminal in Shanghai with PetroChina and has several gas to power plants elsewhere in China), the company does not own any upstream assets itself. It intends to source the natural gas from existing producers in the Peace Region. 
This model, Giraud said, is somewhat concerning for potential customers across the Pacific including Woodfibre LNG's parent company, Pacific Oil and Gas, based in Singapore. 
"The reason for concern is they don't realize the abundance of gas that's here," he said. "So, when I say we're just going to buy our gas on the market from long-term contracts with producers that are (in the Peace Region), the fact that we don't have (gas) that's on our own asset is a concern to some buyers. As part of their due dilligence, they need to see that it's real. That buying from an existing producer is not a risk."
Woodfibre intends to bring some of its potential customers to the Peace Region this fall to offer them a tour so that they can get a sense of the extent of the resource available in the Northeast.
As a parting note, Giraud gave a whiff of caution, saying that while they're still very much in the game, the margins are tight. 
"But we still think we can do," he said. "We're still quite bullish. There are a number of items outstanding but they're not insurmountable, they're not things we fear. They're negotiations and they take time. Those kinds of things could impact the timing of a final investment decision but we don't see them as being things that could stop us."
Given that there are only a few LNG export terminal proposals remaining, Woodfibre LNG could receive a lot of attention in the coming months.
dcreporter@dcdn.ca