A $715-million gas processing plant has been approved for a site south of Fort St. John.
Veresen Inc. announced this week that the Cutbank Ridge Partnership (CRP) had approved facility, which will draw its supply from the Montney resource play. 
The facility will have the capacity to produce 200 million cubic feet per day of rich gas and up to 20,000 barrels per day of condensate and natural gas liquids.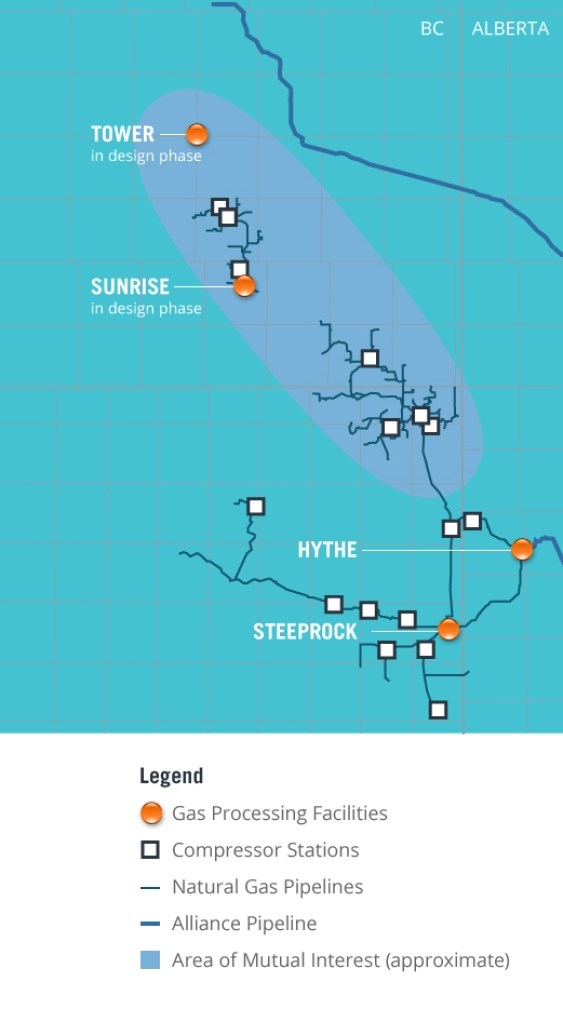 "The Montney remains western Canada's most actively developed gas resource play and continues to deliver strong results even against a challenging macro environment," the company said in a Dec. 7 release. 
Veresen officials could not be immediately reached for further comment.
The plant is expected to be in service in late 2017. 
The plant will tie into TransCanada's NOVA Gas Transmission lines.
"Once on TransCanada, the gas can flow to multiple places - consumed in Western Canada, through pipelines to eastern Canada or to future LNG facilities in B.C. or Oregon," Doreen Miller with Veresen's investor Relations department told the Alaska Highway News in an email.
The project will be jointly funded by Veresen Midstream, which will contribute 55 to 60 per cent of the construction costs. The rest will be contributed by Veresen Inc. and Kohlberg Kravis Roberts & Co. LP.
In October, the CRP announced it was building the Sunrise gas plant near Dawson Creek. The plant will be the largest built in Western Canada in the last 30 years and also has an expected in-service date of 2017.
Veresen to triple processing capacity by 2018
Veresen and CRP also announced this week plans to add 200 million cubic feet per day of compression and 400 million cubic feet per day of refrigeration capacity to the Saturn compressor station near Dawson Creek.
The move converts the site into a 400 million cubic feet per day gas plant. 
A final investment decision on the expansion projects is expected in early 2016. 
dcreporter@dcdn.ca