A 160-kilometre pipeline from Wonowon to Taylor and another pipeline that will carry gas to the proposed Woodfibre LNG plant have been granted environmental approval by the B.C. government.
Pembina-owned Plateau Pipeline Ltd.'s Northeast B.C. expansion is set to add 75,000 barrels a day of condensate natural gas liquids to the company's system, while the Eagle Mountain-Woodfibre Gas pipeline is another step towards constructing B.C.'s first liquefied natural gas export terminal.
Both projects will require various federal, provincial and local government permits before construction can begin.
Twenty-six legally binding conditions have been applied to the Plateau Pipeline, while Eagle Mountain will need to meet or exceed 30 conditions placed on it by the Ministry of Natural Gas Development.
The conditions on Plateau include protection of moose during construction by restricting activities near calving habitats, a requirement to undertake wetland surveys before beginning construction, protections for old growth forests, measures to help protect endangered plants and the development of a plan to protect Aboriginal heritage sites.
Conditions for Eagle Mountain pipeline include contributing $250,000 towards developing a grizzly bear mitigation and monitoring plan, using underground trenchless construction methods to reduce impacts on the Skwelwil'em Squamish Estuary Wildlife Management Area and consulting with Aboriginal groups to monitor effects on community services and infrastructure.
The Plateau Pipeline will run from the Highway 97/Blair Creek area north of Wonowon to an existing terminal in Taylor. The company has noted that the project would reduce traffic on area roads by up to 100 trucks per day.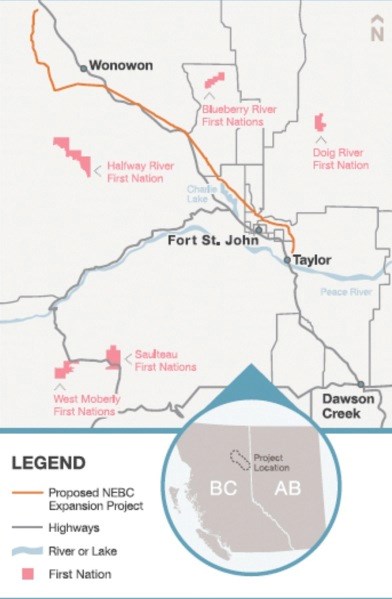 Early in the process, the company had requested to forego an environmental assessment, which it later withdrew. 
"We (withdrew) this request to ensure that all First Nations and public concerns are identified and fulsomely addressed," Pembina spokesperson Jason Fydirchuk said in an email to the Dawosn Creek Mirror in 2015.
As for Eagle Mountain, the pipeline's approval will allow gas drilled near Dawson Creek to reach the $1.8 billion LNG export facility to be located near Howe Sound. Woodfibre LNG was granted environmental approval in March.
The project is tiny compared to others like Pacific NorthWest LNG (PNW) near Prince Rupert and LNG Canada near Kitimat. It's licensed to export just 2.1 million tonnes of gas per year, compared to the 19.68 million tonnes planned for PNW.
District of Squamish Mayor Patricia Heintzman took a tour of oil and gas facilities in the Peace Region in the fall of 2015 as her government mulled whether it would support the project. At the time, she questioned the benefits to her community. 
The Dawson Creek Chamber of Commerce welcomed the news of the approvals. 
"It's all good news," executive director Kathleen Connolly said. "We always think that pipelines — or anything to get our (gas) to market wherever that market is — are a good thing. It's good news that we needed at a time when there is a lot of uncertainty."
dcreporter@dcdn.ca