The staff call them the "Cadillacs" of greenhouses. 
These two, 200-foot long, 40-feet wide monstrosities on the grounds of the Twin Sisters Native Plant Nursery in Moberly Lake produce plants primarily for the purveyors of the natural gas industry, and others.
The business plan is simple: inside the nursery you won't find retail specials like flower baskets or tomatoes. Instead, this greenhouse grows and sells plants native to the Peace Region, so mining companies, the oil and gas industry and Crown corporations can restore the lands disturbed by pipelines, dams and coal mines.
From wall to wall, Saskatoon berries, willow bushes, pine trees, thimble berries, raspberries and a variety of grasses thrive.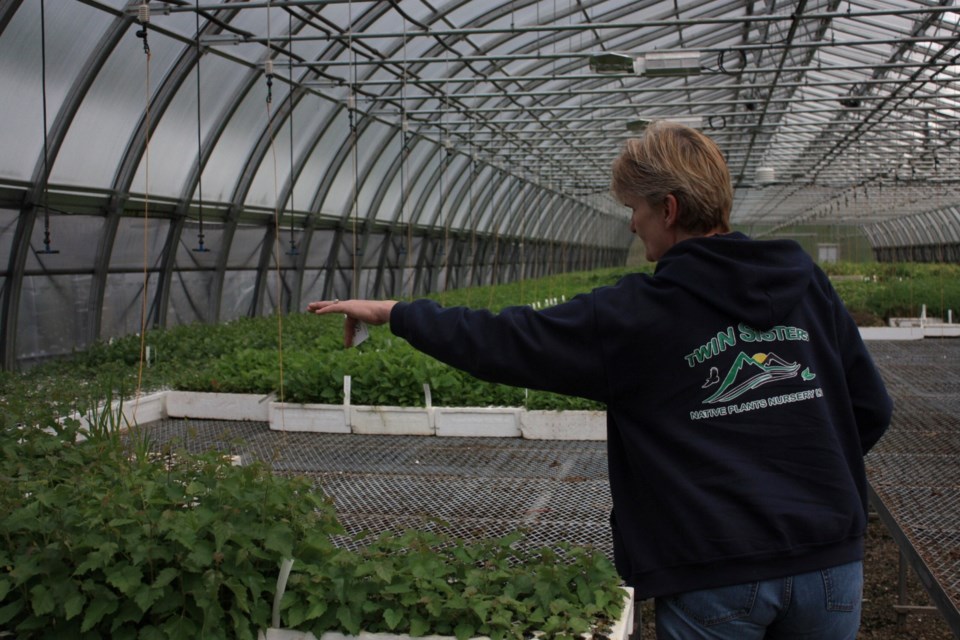 "If you were Shell, you would come to us and we'd go out and do a site survey just to see what you've got before you scrape the ground," said Vanessa Adams, the nursery's head grower.
"Then you get a seed lot with us and we go out and collect (and) in a couple of years or so, we'll put the plants we've grown here in the ground."
The facility is one of the few native plant nurseries in the province. It was funded completely to the tune of $1.4 million by Walter Energy Canada. The original budget was $30,000. It's jointly run by the West Moberly and Saulteau First Nations.
It's a year-round operation with the only down time coming during the darkest days of the winter solstice, when growing plants and heating the greenhouse becomes unfeasible. 
On a recent tour, a simple, classic rock beat banged out from a stereo in the back, reverberating on the plastic walls as Delain Gauthier, a Saulteau First Nations member, was doing Darwin's work: thinning out the weak sprouts and placing only the strong, new growth in a new tray to mature.
In the back, Noreen Brown bobbed her head along with The Eagles' "Heartache Tonight" as she picked weeds from a tray of plants.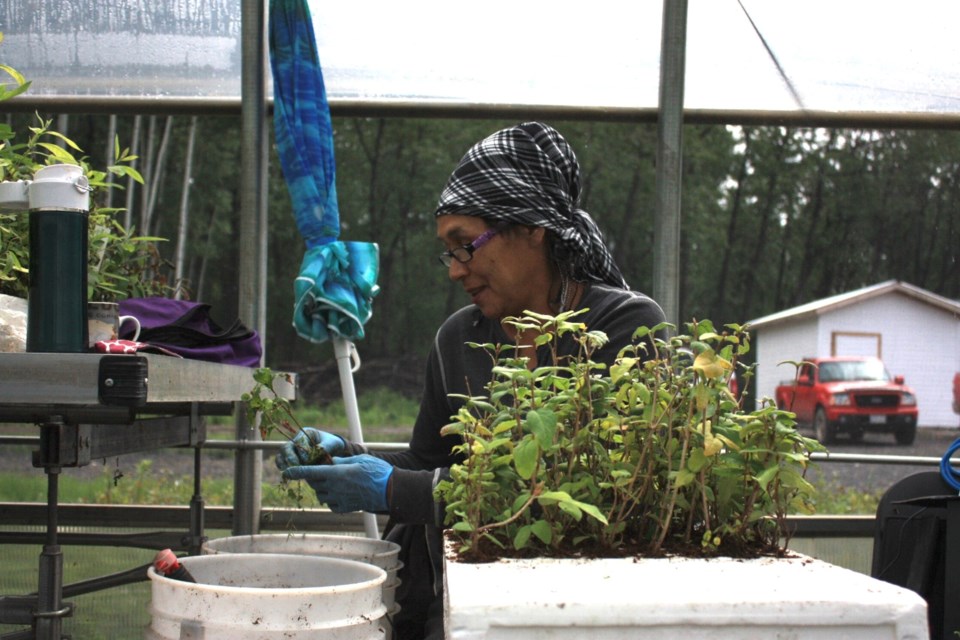 There are five full-time employees at the greenhouse, all full members of either the Saulteau and West Moberly First Nations. Younger members of the two nations are hired part-time during the planting season, which is usually in the fall. 
Land reclamation is big business
In short, Twin Sisters offers full-service land reclamation, something that is becomming a big business. Companies like Shell and Triton Energy Ltd. have already come on board, and discussions are underway with TransCanada.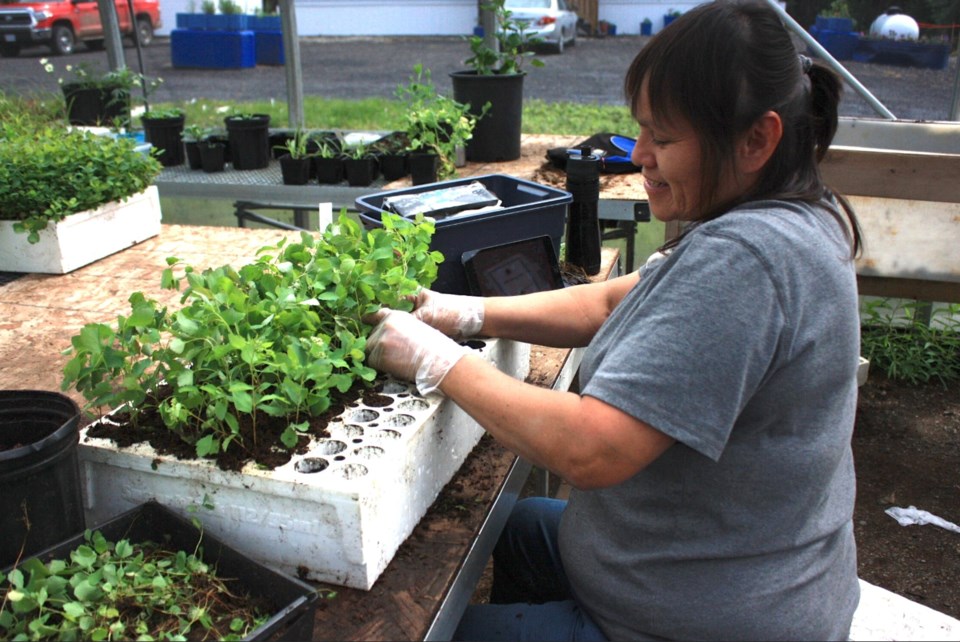 BC Hydro is buying seed from Twin Sisters to stabilize the newly reshaped north and south banks of the Peace River as part of the Site C dam project.
Pattern Energy is making use of the nursery to replant vegetation around its wind turbine projects, like the Meikle Wind Farm near Tumbler Ridge.
It's becoming a popular alternative to spraying a generic mix of grass seed.
Adams says these mixes often result in an abundance of fescue and clover, plants that are like fast food to moose, deer and elk. They're attracted to it, but it's not very good for them, she says.
Fescue, for example, has been known to cause abortions in ungulates like cows and horses.
"So we wonder if it does the same for moose, elk and deer," she said, "since we are seeing declining populations of those ungulates."
Replacing disturbed lands withplants that naturally grow where projects are is the preferred method of First Nations that live along pipeline routes. It's not a perfect solution, but it's far better than what results from generic grass seed mixes. 
In May, West Moberly elder George Dejarlais told a National Energy Board panel conducting hearings for TransCanada's proposed Towerbirch pipeline expansion project, that reclaiming the land with native species can return it to a more natural state and allow for traditional land uses to continue, such as berry picking and the collection of medicinal plants.
"We figure it's a better idea to put back native species," Adams said, "because what you get with those agronomic grass seed mixes (is) a mass of ungulates feeding there. Then you are going to get predators, and they can fly up and down right-of-ways like it's their own personal highway."
The nursery uses only one pf the two greenhouse right now, but Adams says that means there is potential for expansion. 
"We have the building," she said. "We just need to finish the inside."
As long as there are pipeline projects, the nursery will thrive.
dcreporter@dcdn.ca