For the DCSS senior girls volleyball team, there's been good news and bad news this season. The bad news is that for the second straight year they won't be competing at home in the BC AAA Girls Volleyball Championships. The good news is they are in the midst of a normal school volleyball season for the first time in two years and have an automatic bid into the provincials.
Dawson Creek was set to host the provincial championships this December as a makeup for the 2020 provincials, which were cancelled due to the pandemic. However, BC School Sports made the decision on October 28 to move the tournament to Vancouver. The decision came amid concerns from parents, coaches and teams about travelling to a place with high Covid-19 case numbers, but the DCSS team was still given an automatic berth into the championships.
"It was something we were really looking forward to, but it's better to move it now than a week before the championships. We are disappointed we can't host it, but we're glad to have the bye to provincials and are looking forward to that," said coach Aaron Powell.
"It sucks we can't play at home in our senior year like we were supposed to, but that we still get to go is exciting and something to look forward to," said Grade 12 player Rylie Bondaroff.
Powell said the bye provides the opportunity for his team to play without the pressure of needing to win to qualify for provincials, and instead make sure they can focus on the areas they need to improve and continue to improve so that they're at their best come December.
So far, it's been a slow start to the season for the girls, who are facing a different schedule than normal.
"Our season has been a bit derailed in terms of play, because we can't cross the border to compete and so we haven't played as much as we normally would. Normally we'd have played in seven tournaments, but only three so far this year," said Powell on November 2. Since then, the girls have played a fourth tournament, November 5 and 6, in Prince George, where the team went 5-0 before losing in the final to Duchess Park in three sets.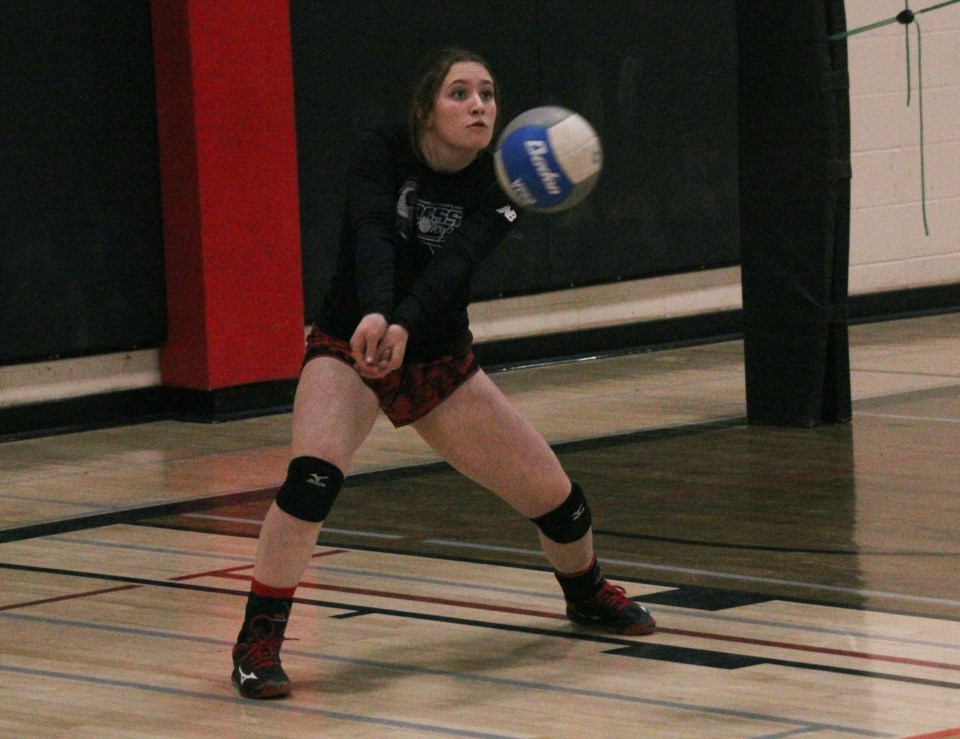 "I feel like we've improved a lot since the start of the year. It's a new team, coming back together, and we haven't played any tournaments in a long time until now. We've slowly built things up with the hopes of being at our peak by provincials and I think we can be top five if we work hard and stay focused," Bondaroff said.
The senior team has two second place finishes and a third-place finish, but failed to make the top four at the Douglas College tournament.
"We're a good team with a good core. We have six Grade 12 players on the team. These girls have been ranked seventh at provincials in the past, we probably rank around eighth right now," he said.
Grade 11 player Mandy Feist is enjoying her first year on the senior team and the chance to actually compete after a full year of just practicing.
"It's nice to take everything we practiced and put it into a game now. My passing is a lot better, so is my hitting, setting, and communication," Feist said.
Captain Dylan Lekstrom said she's thrilled with how the team has come together throughout the season.
"We had a rough start but it's going much better now. We've improved on the mental side, after not playing for a year we were a bit rusty," Lekstrom said. "Provincials will be a fantastic experience. We're excited to go and we're ready."
The 2021 BC AAA Girls Volleyball Championships will go December 2 to 4 in Vancouver at Crofton House School. The DCSS senior team has one more tournament prior to the provincials — in Quesnel, November 19 and 20, for the Zone Championships.
---
Email sports reporter Dillon Giancola at sports@ahnfsj.ca