The DCSS Grade 9 volleyball team took gold in Prince George at the PGSS invitational last weekend, October 22 and 23. There were nine teams there — one from Quesnel, the DCSS Grade 8 team, and the rest were from Prince George (College Heights, PGSS, Duchess Park, Cedars Christian School, DP Todd, ST Kelly Road).
We went undefeated in the round robin, which gave us a bye to the semi-finals.
In the round robin, we played the PGSS Grade 9/10's first and took that game 25-7 and 25-18. Next, on Friday night, we faced off against Cedars Christian School and won that game 25-7 and 25-10. On Saturday, we finished out the round robin against Duchess Park (25-21 and 25-15) and then Quesnel Junior Secondary (25-9 and 25-11).
In the semi-final, we faced Cedars Christian School again, who beat out DP Todd to earn their spot in the semi-final. They came out like a different team on Saturday and we had a tough first game against them! They took the first set against us 23-25 and then we came back to win 25-22 and 15-5. It was a really exciting game with a lot of attacking on both sides and really great serving! Cedars is a great team and I think they will challenge us again when we head back to Prince George.
In the final game, we faced off against College Heights, who we hadn't seen yet. College Heights is a skilled team with a tough offence. Our serving was superior at 93%, and I think that gave us a clear advantage. We took those sets 25-13 and 25-15 for the gold!
Overall, I feel that our practice with serving and serve receive gave us an edge this weekend. We've been working hard on these skills over the last two weeks and it showed. Our serve percentage for the weekend was 92%. Out of a total of 295 serves, we only missed 25, which is incredible!
Because we've been working so hard on our passing, we were able to generate a big offence against these teams. The teams in Prince George are much bigger than we are, so we had to be excellent on defense. Tyler Schmidt, our setter, really took control of the game and was able to set up our offence repeatedly. Tyler is a truly exceptional player! At just 13 years old, she was clearly a dominant setter in the tournament and many spectators made comments about her ability.
On offence, Arielle Spencer was able to repeatedly attack and attack hard. Arielle can jump and, when she nails her timing, can really hit the ball hard. It was nearly impossible for our opponents to defend her strong attacks.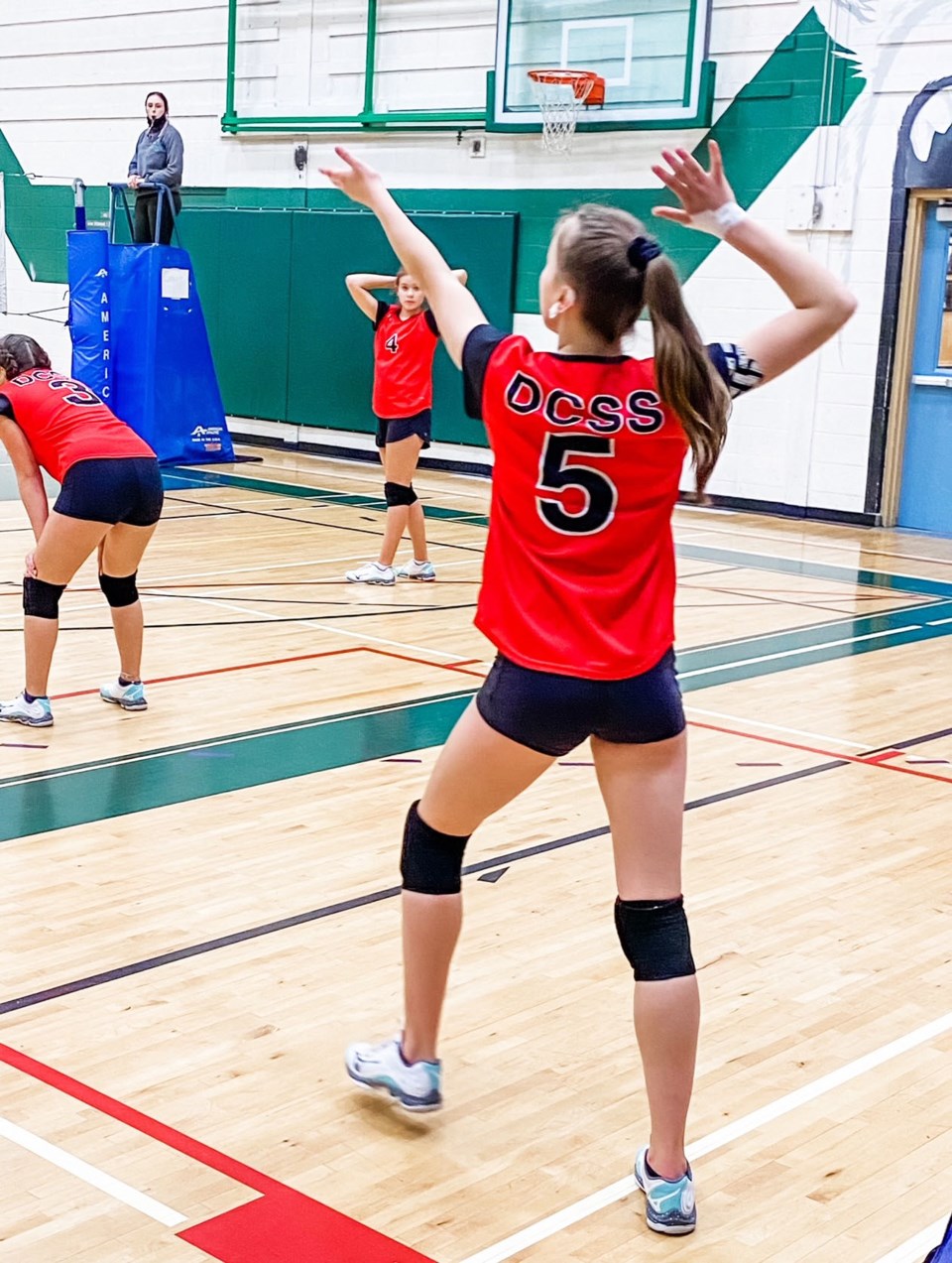 The whole team played excellent! We saw great serving from newcomers Ashlyn Buchan and Calla Bijl. Our new libero Shanedra Martinez got some good experience this weekend learning the ropes of this position. The rest of the team was solid all weekend long both offensively and defensively.
I'm really proud of how far these girls have come! The school season is short and we can only work on one or two things between tournaments so we have to make good use of our practice time. The girls are all working hard and definitely taking ownership of their roles. I couldn't be prouder as a coach!
— Terri Spencer, DCSS Grade 9 Girls Volleyball Coach