From the bowels of Babcock Arena beckons a glimmer of light, lots of dust and plenty of rodeo talent.
The arena, just outside Fort St. John, was where rodeo stars of the future gathered on Saturday and Sunday for one of the final events of the junior circuit for the B.C. High School Rodeo Association season.
The junior high schoolers turned up in droves for the event, with more than 100 taking to the arena in events from as barrel racing to build a cowboy saddle bronc.
Many of the talented crop have an unmeasured passion for the sport of rodeo and compete in as many events  as possible throughout the weekend. That creates the hope of meeting their ultimate goal— a trip to Lebanon, Tennessee for the National Junior Rodeo Finals.
"I really want to go to nationals in Tennessee. That's basically my biggest goal. I just have to keep doing what I'm doing because I'm getting better every time," said 14-year-old Wyatte Copeland, who had the top time of 14.4 seconds in the goat tying event on Saturday.
Copeland is coming off a scary accident last year where he was thrown from his horse, which makes his rise and goals that much more remarkable.
"First time I got involved I was actually trying out team roping and I got in a big wreck on my horse," he said.  "First time I ever tried it I got in a big wreck. Had to go to the hospital…we just came to the end of the arena and I went over the front. My lip was swollen."
That's a long way removed from the 16-month-old kid who won his first horsemanship competition, and slept with the trophy on the way home.
It was a long winter of roping and cute dogging four times a week this year that has Copeland in contention for nationals.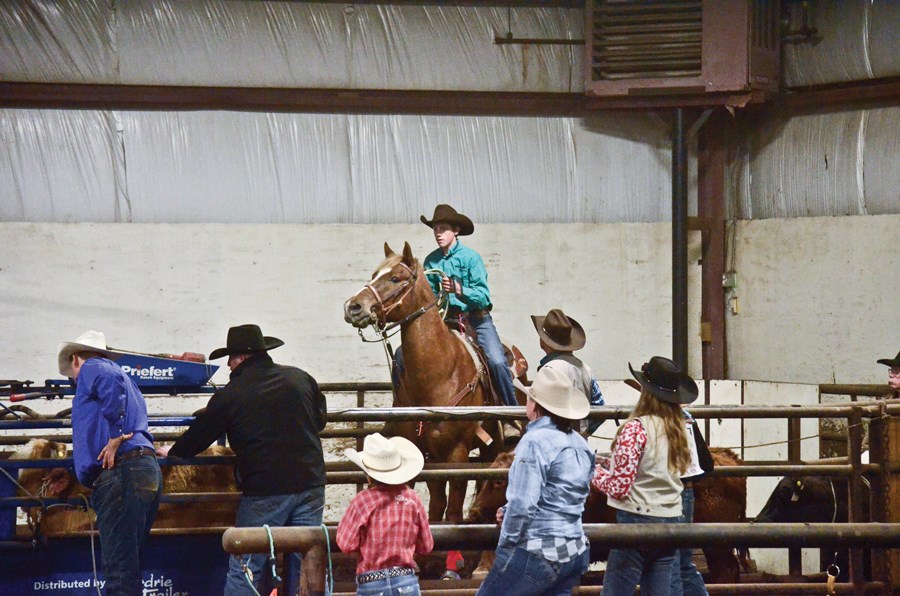 But he's not the only one vying for top spot, as Zane Jones sits second in the all-around cowboy standings and has his eyes on top spot in the build-a-cowboy saddle bronc.
Jones has an affinity for the saddle bronc, an event usually done on horseback but they scale it down to steers for the young junior high cowboys in order to introduce them to the sport.
"It just gives me the best [feeling], I just have a lot of fun doing it and I'm pretty good at it," Jones, who tied his brother for the top score on Saturday, said.
And to be top all-around cowboy for the kid who saw some YouTube videos about bull riding and started out with just a few events before he got his current horse is another tribute to the development of high school rodeo.
"My dad had horses when he was younger and we never bought horses until like a year ago and I'd rode horses a little bit but not a lot," Jones said.
"Everybody else had really nice horses and my horse was just green. It would just blow by the steers, so the hardest thing when I rope is my horse isn't in position."
The 14-year-old from Dawson Creek added a trip to nationals would be special considering how he got his modest start in the sport.
"To win all around and saddle bronc," Jones said confidently about his season-long goal. "I think it's pretty achievable…it would be really good."
Watching youtube videos isn't the only way to get your start in rodeo, as Rylee Peck made her transition into the game from show riding. She said it's pretty easy to find a reason to love rodeo.
"I used to jump and I still kind of do… In shows you have to wash and groom your horse, where rodeo you just have to brush where the saddle goes," she said.
Although she still show jumps occasionally, the focus these days is on rodeo and the Canadian finals in Nanton, Alberta. She added there's just a few adjustments she needs to settle on to help improve her times in pole bending.
"I just need to move my horse over another stride," she said.
The next rodeo for the junior high school BCHSRA members is Williams Lake from May 6-8, then Hudson's Hope on May 13-15 before the Junior Finals from May 20-22 in Dawson Creek.
sports@ahnfsj.ca