A donation from TransAlta, a wind power generation company, to the Northern Lights College (NLC) in Dawson Creek means the college now has a fully operational wind turbine simulator.
The simulator will allow students to hone their skills as budding wind turbine techs on a setup that is similar to what they'll find in the field. It consists of parts from a decommissioned wind farm near Pincher Creek, Alberta that were delivered to the school last week.
NLC's Dawson Creek campus is one of only three schools in the country that offer the Wind Turbine Maintenance Technician program. The other two are in Alberta and Ontario.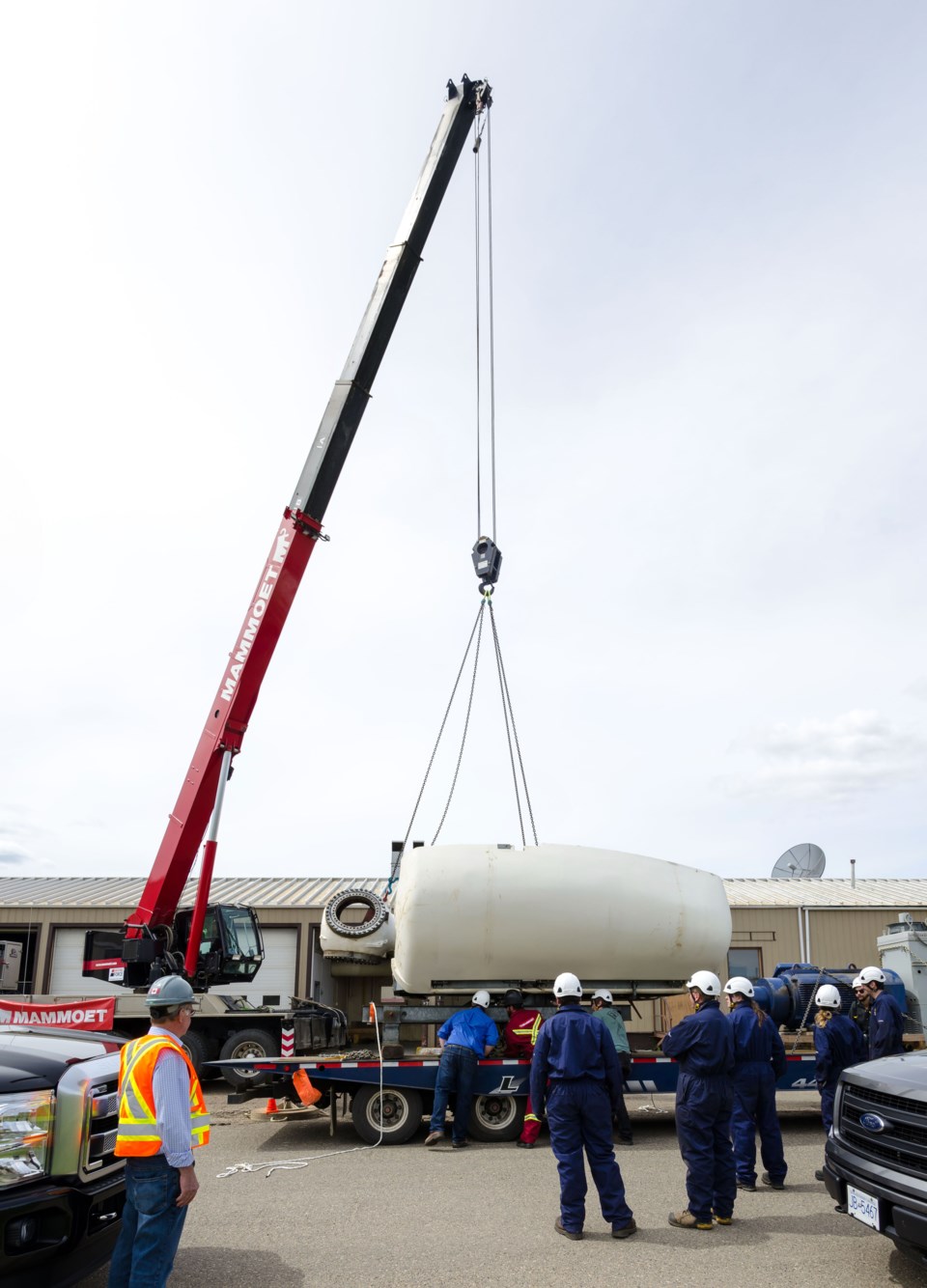 "This is going to improve our course 100 per cent," said instructor Nathan Campbell, who used to work for TransAlta. "All the technology (with the simulator) is still applicable in the towers that students are going to work on (in the field)."
Tyler Hannah, operations manager with Mammoet, a company that specializes in hoisting and transporting heavy objects, said the decommissioning of the Cowley Ridge wind project near Pincher Creek, has been an ongoing project for his team over the last month and a half. 
When his company heard that TransAlta was planning to donate part of the wind farm to NLC, Hannah says Mammoet stepped up to donate their time and equipment to bring the equipment to Dawson Creek.
"It's a great opportunity for the college to get some fully functional gear," he said. "It's a bit dated, however the mechanics and all the internals haven't changed that much."
Campbell says the new simulator will provide training on technology that is similar to the wind tower controls that will be installed at the Meikle Ridge Wind project near Tumbler Ridge. The $400 million wind tower project is about six months away from commercial operation.
"All the systems are the same," Campbell said. "A pitch system which (controls) the blades, generators, the gear box, hydraulic units, controllers on the tower…TransAlta gave us everything we need to make it into a simulator."
The company also sent along the maintenance records containing every bit of work done on the towers over their 20-year lifespan, which Campbell says will be a valuable resource.
"The true excitement for all parties who made contributions, is how this donation will benefit the development of 'home grown' talent within the Peace River region, across B.C. and throughout the wind industry," NLC said in a release.
The Dawson Creek campus boasts a 26-metre-tall wind turbine tower that was erected in October 2013. The tower and the new equipment complete a simulator.
dcreporter@dcdn.ca