Dawson Creek RCMP are investigating thefts from Canadian Natural Resources Ltd. (CNRL) properties in the the South Peace area.
The thefts happened on July 4. Police say the thieves targeted several of the company's work sites, taking an undisclosed number of deep cycle solar batteries. 
RCMP have received several reports of solar panels and batteries being stolen from oil and gas sites this year, as well as vandalism on a gas site near Fort St. John. 
Surveillance video captured a vehicle RCMP believe was involved in the thefts—a silver/grey 2013-2016 Dodge Ram 3500 Turbo. 
Police say there is a large dent on the driver's side near the gas cap and a small dent over the rear passenger's side wheel well. The truck also had a thin red tidy tank in the box. Vehicle registration numbers were seen printed on the side of the truck under a set of after-market dual antennas.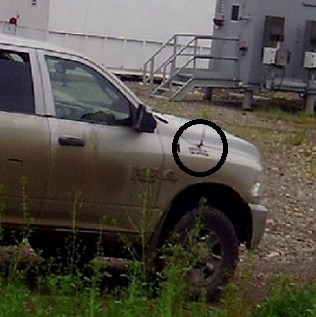 "The suspects may have known there was a surveillance system at the sites as they took time to cover the front and back licence plates," Cpl. Dave Tyreman said in a release. 
Police are asking anyone who recognizes this vehicle to contact the Dawson Creek RCMP at 250-784-3700, or if you wish to remain anonymous, call Crime Stoppers at 1-800-222-8477 (TIPS).

dcreporter@dcdn.ca