When Denny Poole was just a few years old, Alan Lefferson, his foster dad, taught him how to track on his 52-acre farm outside Pouce Coupe.   
"He'd show me all the different (tracks) next time out," Lefferson said Monday at a vigil for Poole, who has been missing for nearly 45 days. "Deer, moose, elk, bear, whatever we could find. He was very good at memorizing roads to get back home."
One hundred people turned out to a service for Poole Monday to pray for his safe return.   
The 15-year-old went missing after wandering the backroads near the Kiskatinaw River with a friend March 12. The friend managed to find a ride back to Dawson Creek, but Poole hasn't been seen since. 
Pastor Cory Lizotte of the Pouce Coupe Community Church led a brief service, followed by smudging and drumming for the Poole family, who are First Nations. 
"Help the people who are looking for him, and bring him safely home to us," Lizotte prayed. "If that is not possible, Lord, we ask you to let us know where he is so we can grieve."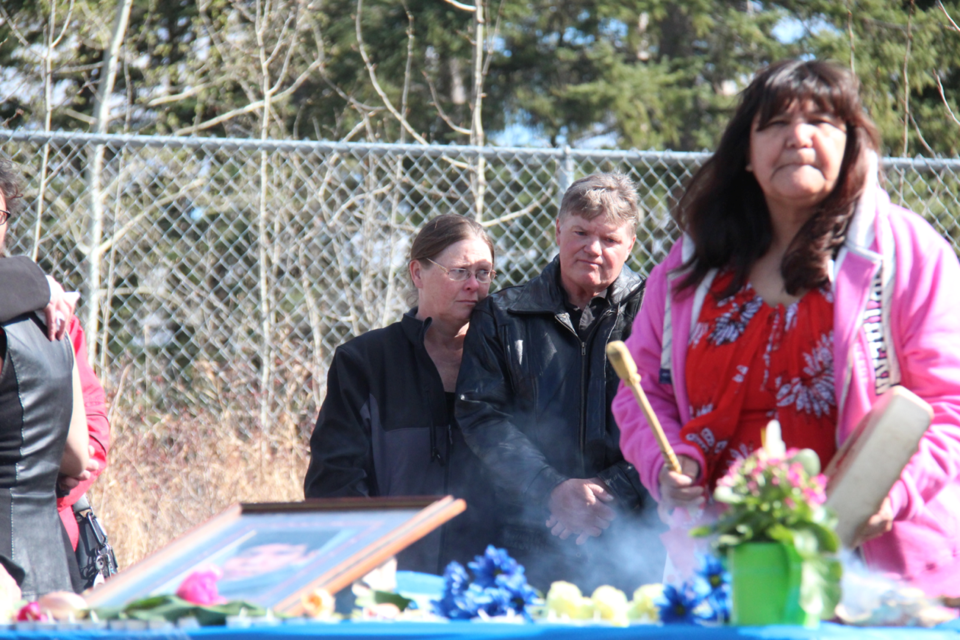 Poole, who was living with his grandma Jenny at the time of his disappearance, spent time in foster care with the Leffersons growing up. 
Riding bikes and quads on the farm was one of Poole's favourite activities, Lefferson said. He said it was unusual for Poole to be out of contact, even after he moved back with his grandma.    
"Usually once a week he'd phone me just to see how I was doing," Lefferson said. "If he was in trouble or needed something, I'd go get him."  
Police have enlisted a helicopter for help in the search, as well as trackers from Saulteau First Nations, but as of Monday there was no news on Poole's whereabouts. 
Lizotte said the search for Denny has been painful for the whole community. 
"If one person is hurt, we all feel it," he said. 
reporter@dcdn.ca