Esther Mwale is an exception to the rule. 
As a girl who grew up valuing her own education in Malawi — the land-locked African Nation known as "The Warm Heart of Africa" — she was bombarded almost daily with questions from her peers like: "what use is an education for a girl?" and "you need to raise children, so why would you even bother with school?"
These inclinations are so deeply bred into Malawian culture that they can feel smothering. 
Malwai is a place where secondary education is not free and families will often pay for their son to go to school rather than their daughter. 
Luckily for Esther, she had a father who was a teacher. He saw the life changing value in education, something that, according to some teachers, students here in Dawson Creek often overlook.
Mwale was in the city last month to talk about her experiences as a special guest at the Rotary Club youth group, Rotary Interact's, annual fundraising dinner for the school she graduated from, Atsikana Pa Ulendo (Malawi Girls on the Move).
"The attitude towards girls is generally, get married and don't waste time," Mwale told the Dawson Creek Mirror. "People prefer investing in boys (to go to school) so it's always a struggle. The community, they don't believe that a girl can get high marks in mathematics. Girls just do home economics and (so-called) 'simple subjects.'"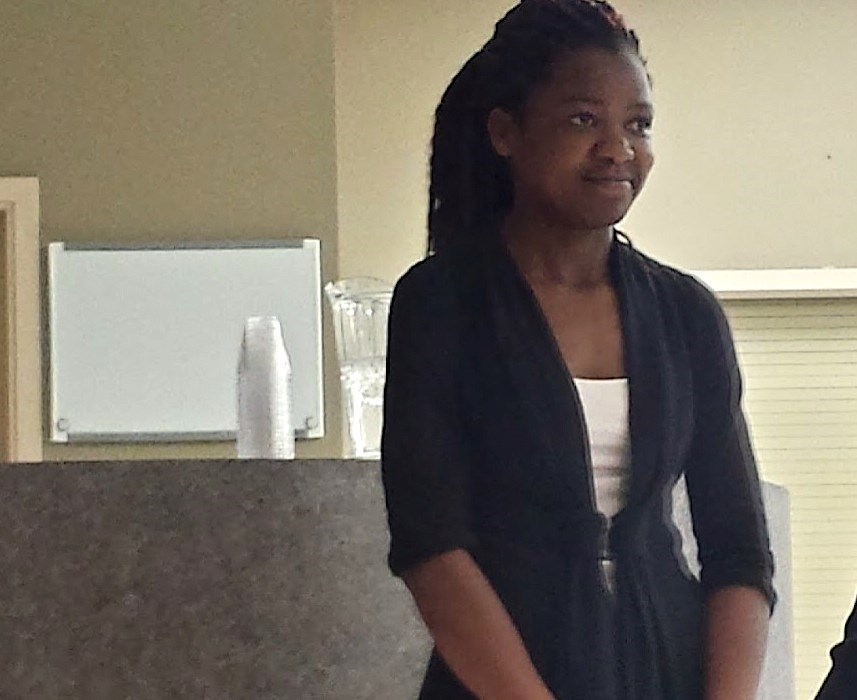 If it wasn't for her father's encouragement and belief in her, Mwale says she would have likely fallen into the trap that most girls do.
"You go to school in primary, and once you graduate most parents entice their girls to get married and find a man to take care of them," she said. "But my father said, 'Esther, you are better than that.'"
So, she decided that before she gets married she needs to pursue more education so that she can get a job and be dependent on herself. 
"Then I'll be able to chose a husband who is also educated, who respects me and who can contribute to this society. Not just a marriage to somebody who is just (convenient)."
Although nothing can diminish Mwale's own efforts, she owes at least some of her success to teenagers right here in Dawson Creek. 
For the last eight years, the Rotary Interact group at Dawson Creek Secondary School, South Peace Campus, has been raising money for the Atsikana Pa Ulendo school.
So far the club has raised enough money to build classrooms, dorms and a cafeteria. On May 27, they held their annual gala dinner and silent auction to raise even more money for the school. Esther was the guest of honour.
Their efforts aren't going unnoticed.
"This group has stayed with this cause long enough to actually change hundreds of girls' lives," Christie Johnson, co-founder of the Atsikana Pa Ulendo Girls's school told the Mirror in 2015.
At that time, Johnson was teaching in Victoria, B.C.
"This group of kids, they've raised more than any single donor that we have," she added. "We really see them as the reason that the school is thriving as it is."
The girls who graduate from the school are difference makers, Mwale said. 
"They are really different from girls that graduate from other schools in Malawi. We don't just learn the academic stuff, we're empowered," she added. "When we are in the communities people can tell we went to Atsikana Pa Ulendo. It's in how we speak. We stand up for ourselves. The school tries to get us over what we've been hearing in our society."
This summer, Mwale will return home to Malawi and see her old friends, some the same age as her, who have chosen to marry and settle down and others who felt they had no other option. 
"I am trying to get inspiration from different books so I can gather all the girls in the community together and really try to (inspire) them," she said. "I am interested in life coaching so I really want to deal with school leavers and try to help them think differently about the opportunities that are right in front of them."
Before she left Dawson Creek, Mwale will spoke at a few more events in schools to help inspire kids in the area to value their education and take its seriously.
Of course, part of this trip was to sell the school to more investors. 
"Those that invest in the school sometimes can not believe where the money is going and what it is doing, but look at me. I am a product of that investment."
dcreporter@dcdn.ca