The son of Wiebo Ludwig, a suspect in a series of unexplained pipeline bombings that rocked the South Peace starting in 2008, has thrown his support behind residents in Tomslake protesting a natural gas facility planned near Blockline (200) Road, south of Dawson Creek. 
Josh Ludwig joined a protest July 7 near where Encana wants to build a facility to process natural gas liquids. The South Central Liquids hub, slated for a 19-hectare plot of land, will take in natural gas from existing pipelines in the area and extract liquids including propane and butane. 
About 25 residents live within a two-kilometre radius of the proposed facility. They fear their slice of rural living will become an industrial park and are concerned about emissions from the plant. 
"I remember how badly we wanted some support (when we opposed Encana projects) and it was often hard to come by," Ludwig said. "So many people (work) for the oil and gas industry and don't want to compromise their salaries.
"The scripture says do unto others as you'd have them do unto you—and I thought these people could use our support," he added. 
In recent years, Josh has vowed to continue the fight against oil and gas development started by his late father, a preacher and leader of the Trickle Creek Christian community near Hythe. The elder Ludwig was an anti-oil and gas activist who was convicted in 2000 of bombing a Suncor oil site near his home. Ludwig has always maintained his innocence.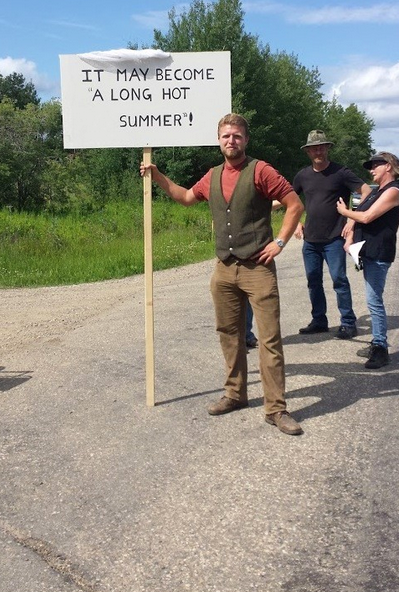 Before his death in April 2012, Wiebo was the subject of a another RCMP investigation after Encana wellheads and pipelines in the Tomslake area were the targets of several bombings between October 2008 and July 2009.
Wiebo was arrested at a Grande Prairie hotel in 2010 after forensic experts found his DNA on two letters sent to the Dawson Creek Daily News that threatened Encana operations. He was held for 24 hours before being released without charge.
Josh Ludwig says he first heard about the proposed South Central Liquids hub through friends Tim and Linda Ewert, who own an organic farm in the area. 
"Tim has spent his whole life here farming organically and raising horses, and the industry just comes in here and steamrolls them and turns the place into an industrial park," Ludwig said. "I just find it very reprehensible and sad that that goes on."
Tim Ewert was also interviewed by RCMP in relation to the 2008 bombings. In a CTV W5 interview from 2010, Ewert claimed the RCMP were heavy-handed in their investigation, accusing him of lying and reciting rehearsed statements when interviewed. Ewert was never charged.
Ludwig said oil and gas development "is the problem we've faced for a long time. The needs of the majority outweigh the minority. My point has been that there is a growing consensus that this industry is bad for the majority as well. I am talking about climate change."
He says he will support the Blockline Road protesters, but he "hasn't done much yet" other than show up to the protest last week. The RCMP had no comment on Ludwig's appearance at the the protest, saying it respects the right to democratic and lawful protest.
Before Encana can move forward with the plant, the Peace River Regional District needs to rezone the land in question. The 19 hectares set aside for the proposed facility have already been removed from the Agricultural Land Reserve and the project has also received approvals from the Oil and Gas Commission.
Encana says the infrastructure it has in the area is designed for "dry" gas development and that the proposed facility will help mitigate "black smoke" from flaring at these facilities as they process the liquids-rich gas found in the South Peace.
Encana spokesperson Doug McIntyre said the liquids hub will pave the way for a number of future investments in the Montney shale formation. 
"We always strive to find sites that achieve a balance between our business needs and the needs of the local community," McIntyre said in an email. He said Encana balanced many factors when choosing their proposed site, including the location of existing pipeline infrastructure, topography, and residential density. 
Encana says emissions from the plant will not exceed the Oil and Gas Commission's air quality guidelines. 
But that doesn't put Judy Christenson at ease. She lives on a quarter parcel near the lot Encana wants to build on. 
"I am extremely concerned about quality of life for myself, my family and friends," she said at the protest. 
"I bought this place 26 years ago with the intention of living here for the rest of my life. No drama, just a good, simple, quiet farm life. Now, I feel like we're being invaded."
dcreporter@dcdn.ca