Leona Green's farm used to be a wildlife sanctuary, but there's little evidence of that now.

Visitors to Green's property, off a rural highway west of Dawson Creek, drive down a leafy driveway and are greeted by a tired old collie. A few sheep graze in a field behind a garage.

On the property's western edge, though, are a few outbuildings that once housed around 20 chain link enclosures for bears, moose, coyotes, deer and other wildlife found injured or orphaned across northern B.C. and Canada.

Between 1979 and 2014, Green ministered to nearly 3,000 animals. Her clinic, the Hillspring Wildlife Centre, was featured in magazines and newspapers around the world. One groan-worthy headline in a yellowing cutout of the Peace River Block News dubbed her Northern B.C.'s St. Francis of Assisi, patron saint of animals. In Dawson Creek, most knew her another way.

"They just called me the eccentric bear lady out there on the highway," she said with a laugh.

But since late 2014, the pens have sat empty.

Green is finally closing the book on Hillspring Farms, more than a year after her last permit ran out. She's 81, and is tired of dealing with permits that increasingly restricted the types of animals she could rehabilitate. But she's going out with a sobering assessment of B.C. wildlife.  

For 35 years, Green saw firsthand how humanity's creep into the backcountry has reduced wildlife populations in Northeast B.C. Her story also raises difficult questions for B.C.'s Conservation Officer Service, who now have fewer options when they find injured or orphaned wildlife.

"I hardly get any calls," Green says over coffee at her kitchen table, alternating between telling her story and shushing her anxious pug, Amanda. "Over the summer, I might get two or three calls from people who have found wildlife and they still remember me. Most of the calls I get now are from people thanking me for what I've done over the years."

"But my facility," she says, "I could have refurbished a great deal of it but I just let it go because there's nothing to put in it."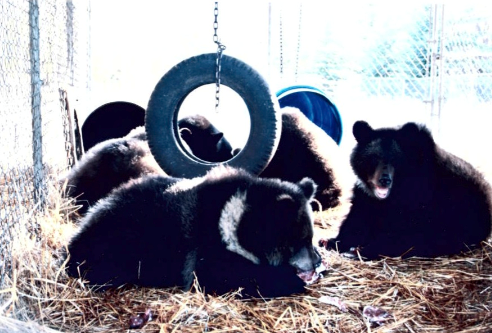 It started with a snowy owl

Green's family moved to the Peace Region from Saskatchewan in 1947. She grew up ranching, and learned how to care for animals tending to her family's cattle, horses and chickens. She started Hillspring Farms, named after a spring-fed pond on her property, as an exotic bird business, raising pheasants for hunting and ornamental birds like peacocks for "bird fanciers."  

Her reputation as a bird expert led a Conservation Officer to bring her a concussed snowy oil—which likely hit a window or a power line. Green nursed the bird back to health.

"He kept bringing me stuff under permit, whether it was a fawn or a baby bear," she said.  

For Conservation Officers, Green became became invaluable.  

"You treat her like a precious jewel," said Andy Ackerman, a former CO and regional fish and wildlife manager who worked closely with Green. "She's one of a rare breed of people who are willing to provide that kind of service for free."

Soon, Green was being sent animals from across Canada. In one memorable case, a bush pilot in the Northwest Territories found an orphaned black bear cub on a remote lake. The pilot flew the cub to town, where a trucker picked it up and drove it to Fort Nelson. Another trucker took over, driving the cub the rest of the way to Green's farm, and stayed in touch to make sure he was the one to drive the bear home.

Then there's the lynx she trained to eat cat food and use a litter box. The honey bear she nursed back to health after removing a misfired tranquilizer dart from its gut. The family of bears brought to her in the middle of the night in the back of an RCMP paddy wagon.

In nearly four decades of work, she was never scratched or bitten by an animal. Donations flowed in. She filled four freezers with food for the animals—one with wild meat, one with fish and two others with wild fruits and vegetables.
But as time went on, two troubling trends emerged.

One was the takeoff of oil and gas development in the region. Not only did that mean more roads, rigs and people in the back country, it meant more money for snowmobiles and four-wheelers and further encroachment into wildlife habitat.   

It's difficult to say how much overall wildlife populations have declined in the Peace Region. Black bear populations, for one, aren't tracked regionally. One study found that moose density in a management area northwest of Fort St. John fell by up to 70 per cent between 2001 in 2015—hammered by increased wolf predation and ticks able to endure warmer winters. In other parts of the region, though, moose populations are stable.

Caribou have been especially hard hit by oil and gas development. Pipeline routes, seismic lines, and roads have created super highways for wolves and other predators. The province has responded by instituting a wolf cull, shooting the animals from helicopters.

Green describes herself as a "conservationist, but not a tree hugger." Andrew Nikiforuk's book on Wiebo Ludwig sits in a corner of her kitchen table. She blames the industry for draining the spring-fed pond on her property, for damaging eggs in one of her exotic bird business's incubators, and for the big trucks that leave wildlife shattered in the ditch.

"I haven't seen a bear on my property for ten years. The moose and deer are all gone," she said. "How could I put wildlife where I had it before? Not with the racket that goes on out there."

'I was down to birdies'

The other trend was a change in Green's permit to operate the rehabilitation centre. Five years ago, Green sent her annual report to the province, expecting the same permit she'd got last year in return. But when the permit came back, she learned she could no longer care for moose, deer or anything else from the ungulate family. The next year, there were further restrictions on bears, wolves, coyotes, fox and lynx.

By 2014, "pretty well everything" had been removed from her permit. "I was allowed to rehabilitate corvids (crows and ravens) and songbirds basically. I was down to birdies." In 2015, she didn't bother filing for a permit.

Green doesn't know why she was hustled out of wildlife rehabilitation. There may have been the perception in Victoria that she was "fly by night" in a world that was becoming professionalized. She was a single-woman operation. Since Green closed up shop, the nearest rehab centre is the Northern Lights Wildlife Society in Smithers—a registered charity with multiple employees, a gift shop and soon, a show on Animal Planet.

Soon after giving up on the new permit, Green began to take apart Hillspring Wildlife Centre. Some of the fencing from the enclosures went to her son's sheep operation. She emptied her freezers. The meat, fruit and fish went to the dump.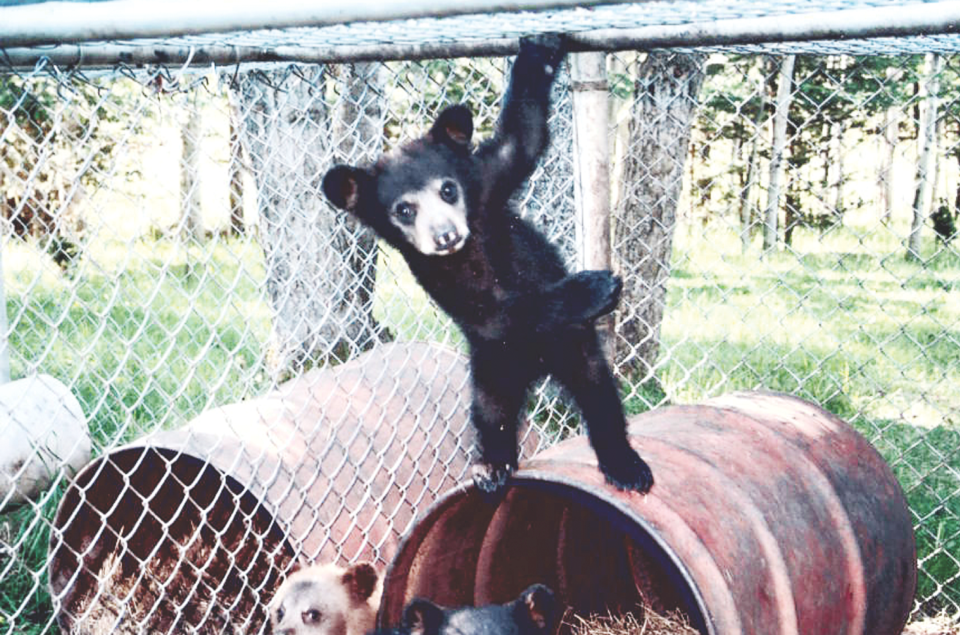 'Like watching someone murder a puppy'

Without a wildlife rehab centre in the Peace, stories like Tiana Jackson's could become more common.
 
In May, Jackson was driving into Dawson Creek when she spotted a black bear cub wandering into a swamp. She waited to see if the bear was alone, and when she didn't spot a mother, picked it up, put it in a kennel and called the Conservation Office.  

Jackson was shocked when the officer said he would have to destroy the cub.

"That's when we made every phone call we could to find an alternative," she said. She started soliciting funds from friends and neighbours to send the animal to Smithers, but the officer wouldn't budge, saying the animal was beyond saving. It was given a lethal injection.

"The best way I can describe it is like watching someone murder a puppy," Jackson said.  

Jackson vented her anger on Facebook, and soon the story was making headlines across the province. She felt the bear cub might have survived if Hillspring Farm was still in operation.

Ackerman said Conservation Officers are increasingly finding themselves in no-win situations like this one.

"The cost of transporting the animals isn't there. It's not in the budget, that I'm aware of," he said. "Until the province steps up with a program that actually funds these folks, COs are facing that dilemma all the time."

"It goes against the grain. That's not what they're in the job for, but the practical reality is if you don't have a facility that's nearby, what are you going to do?"

That leads to a cycle of negative publicity. "The first people that are going to hammer them is the public, then their bosses. I've been there, done that, and it's a tough situation to be in. In my day, we didn't have social media like we do now. The reaction is instant. It's tough. And you've still got to go back to work every day and face the public."  

Dean Velkjar, a field sergeant with the B.C. Conservation Officer Service, said COs still regularly send animals out to rehab facilities around the province.

"The rehabilitation community has got a pretty strong network that covers the province. We'd certainly look at the nearest options, but they don't always get first consideration because they may have limits to what they can do," he said.
"The cost of transporting the animals isn't there. It's not in the budget, that I'm aware of. Until the province steps up with a program that actually funds these folks, COs are facing that dilemma all the time."
"Having that kind of support on your doorstep is definitely convenient," he said of Hillspring Farm. "There are efficiencies that go with that, no denying that whatsoever. To not have that in a large region (like the Peace) is not necessarily ideal, but it also doesn't prevent us from doing those kinds of things (rehabilitation) where they're warranted."
Even if Green had been allowed to operate freely, it would not have been a permanent solution. She turns 82 soon, and it's hard to imagine anyone replicating her wildlife centre. It was founded at a time when no one thought twice about a woman raising bears on a farm. There's no money in it, and donations barely covered her costs.
Beyond the province providing more funding for rehabilitation centres—and overhauling the bureaucracy that led to the reduced permits—both Green and Jackson thought new Conservation Officers should be receive some form of veterinary training to allow them to better assess animal health.  

Green hoped speaking one last time about the farm that made her a local legend would help people understand the state of B.C.'s wildlife.  

"I didn't want all the publicity that I got," she said. "The only reason that I allowed it was because I was able to get through to people the importance of wildlife. I try to do everything I can to preserve our wildlife, but it's pretty tough here right now, let me tell you. It's almost impossible."

reporter@dcdn.ca