James McIntyre was a quiet man who built elaborate model train layouts, an avid environmentalist who sorted cans and bottles before his employer had a recycling program, and a devoted son who lived in an apartment one floor above his mother.    

For the first time since McIntyre was killed during a confrontation with police outside a Site C dam open house last year, family members are speaking publicly about his life.  

B.C.'s Independent Investigations Office (IIO) continues to investigate whether the RCMP member was justified in shooting McIntyre, a 48-year-old Métis man who investigators say was wearing a mask and refused to drop a knife.

Both McIntyre's mother and sister say they don't know what led to the standoff, which happened after another protester flipped tables and tore up maps at a public open house on Site C construction. Work on the controversial, $8.8-billion BC Hydro project began later that month.

"He was never in trouble," said Veronica McIntyre, his mother. "It's devastating for me. It has been this past year. I will never know what got into him that evening."

Video of the shooting's aftermath emerged online, showing two officers standing over a masked man outside the Fixx Urban Grill with guns drawn.
The mask, believed to be the Guy Fawkes mask made popular by the film "V for Vendetta" and adopted by the hacker group Anonymous, set off a wave of international interest in the case. Activists claiming to know McIntyre through an Anonymous-affiliated Twitter account, @jaymack9, vowed revenge after the user went silent the day of the shooting. Several later claimed to have carried out cyber attacks that crashed RCMP, Government of Canada, and other websites.  

Wanda McIntyre said she didn't know what kind of mask police found on her brother, or whether he was involved in online activism.

"He was very much an environmentalist, he was always trying to recycle and do stuff like that, but he wasn't an extremist," she said on the phone from her home in Grande Prairie. "I don't know how he even found out about it, whether he knew someone who was into it and brought him into the fold, I had no idea. He never talked about it to me."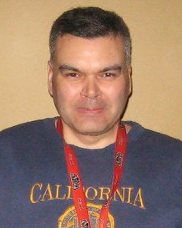 She said he bought a computer in recent years to keep up with his model train hobby.

"He was train crazy," she said. "His apartment was kind of small so he couldn't have a big layout. He got a computer I think probably for the train aspect."

Veronica McIntyre raised James and his four siblings as a single mother. He attended elementary school in the nearby village of Pouce Coupe and Dawson Creek's Central Middle School before the family moved to Grande Prairie, where he graduated from St. Joseph Catholic High.

McIntyre followed his brothers into the trades and spent years working as a welder at mills around Northern B.C. and Alberta. As far as his immediate family knew, he never smoked, drank or took drugs, and preferred to stay close to home because he didn't like driving. He saved his money, using it to attend model train conventions across North America. He was pen pals with several collectors, and went to conventions in Prince George, Reno, Nevada, and Berkeley, California.

Around 2008, he returned to Dawson Creek and began working in food service at the Chances casino, where he won several employee of the month awards. Le Nguyen, owner of Le's Family Restaurant, said McIntyre was a "normal guy" and a dedicated employee when he worked for him as a dishwasher and cook's assistant.  

Wanda said James took care of recyclables before the casino had a system in place. He would recycle plastics, milk jugs, bottles and cans at bins outside a nearby Walmart, she said.

That environmental streak extended to Site C, which McIntyre talked about regularly with his mother. The dam will flood around 83 kilometres of the Peace River valley and displace a several dozen land owners.  

"I don't know why he got involved with that Site C dam," Veronica McIntyre said. "He was concerned about that. I guess it was just the environment, and he felt for the people there. (That's) why he voiced his opinion."    

Both still struggle to understand why James donned a mask and came into contact with police July 16.

"He didn't really like masks," Wanda said. "Maybe that's one of the reasons he didn't pursue his welding (career), just that claustrophobia of having something on your face."

"I know that he had a mask that I ordered for him," she added—a Phantom of the Opera costume for the company Halloween party. "That's the only mask I knew he had."

'The bulk of the investigative work is complete'
 
At a news conference the day after the shooting, spokesperson Kellie Kilpatrick said the McIntyre incident is one of the most complex cases the IIO has investigated.

The office initially believed McIntyre disrupted the Site C open house. But one day later, investigators realized two men were involved.  

"Since the beginning of the operations of the IIO (in 2012), we've not seen a case that has quite as many moving parts as this one," Kilpatrick said at a news conference.

Terry Hadland, a Peace Valley farmer, later told the Globe and Mail that he had disrupted the Site C event. The two men did not know each other, and attempts to contact Hadland have been unsuccessful.

"(McIntyre) created a diversion so I could get away," Hadland said. "He stepped up and took that shot for me, that's for sure."

The IIO investigates whether law enforcement officers who injure or kill people were justified in using force. In cases where the officer acted inappropriately, the IIO will forward a report to Crown counsel, which can decide whether to lay charges.  

The officer who shot McIntyre was initially assigned administrative duties, but returned to active duty six months later. According to an April 7 letter from the ministry of public safety included in a Dawson Creek city council agenda, three officers took off-duty sick leave following the shooting. Multiple officers taking lengthy periods of off-duty sick leave was relatively rare for the 25-member detachment, according to the ministry.  

RCMP carried out a separate investigation of McIntyre alongside the IIO, searching his apartment and seizing a number of personal items, including model trains, according to his mother. The RCMP's E Division declined to comment on the status of that investigation.

Law enforcement officials were set to return McIntyre's personal items seized after the investigation July 8.

IIO spokesperson Marten Youssef said the "bulk" of the investigative work is complete.  

"There is now an internal review process underway," Youssef wrote in an email. "It is common that during an internal review process, additional investigative tasks may be carried out to ensure thorough and complete investigations. 

"Depending on the amount of time that may be required to complete these tasks, a fixed decision date cannot be determined at this time."

Wanda McIntyre said the family wasn't sure what it wanted to see from the investigation.

"We're still in shock,"  she said. "I guess the outcome is what the outcome is, whatever we say or do. It's not going to change the fact."
 
As for why her brother did what he did: "There's no answers, and the only person with the answers is gone."

reporter@dcdn.ca