More than 60 years after opening its doors as one of Dawson Creek's first movie houses, the Crest Theatre has a date with the wrecking ball.  


The former 500-seat, single-screen theatre located on 102nd Ave. is set to come down this spring, after City of Dawson Creek staff approved a demolition permit for site.


The Crest, which found new life as a bingo and pool hall and youth care facility in its later decades, has sat empty for a number of years.
 According to the website cinematreasures.org, the Crest was built in 1953 for the Dawson Creek Theatre Company, which also operated the city's Northland and Vogue Theatres. Cecil B. DeMille's circus film The Greatest Show on Earth won the Academy Award for best picture that year.


The building is now owned by CFA Investment Inc., which also owns City Furniture. After two to three years on the market, the company decided to demolish the building, a City Furniture staffer said.  
The Crest ceased to be a theatre in the early 1980s. According to a 1997 Peace River Block News article, the Crest became a bingo hall and was later converted into a Nawican Friendship Centre-run youth care facility.
For Greg Mitchell, who was a doorman at the Crest during his last two years of high school, seeing the empty building on trips home to Dawson Creek brings back fond memories.
Mitchell got to watch dozens of movies for free, including the Empire Strikes Back and, controversially, Monty Python's Life of Brian.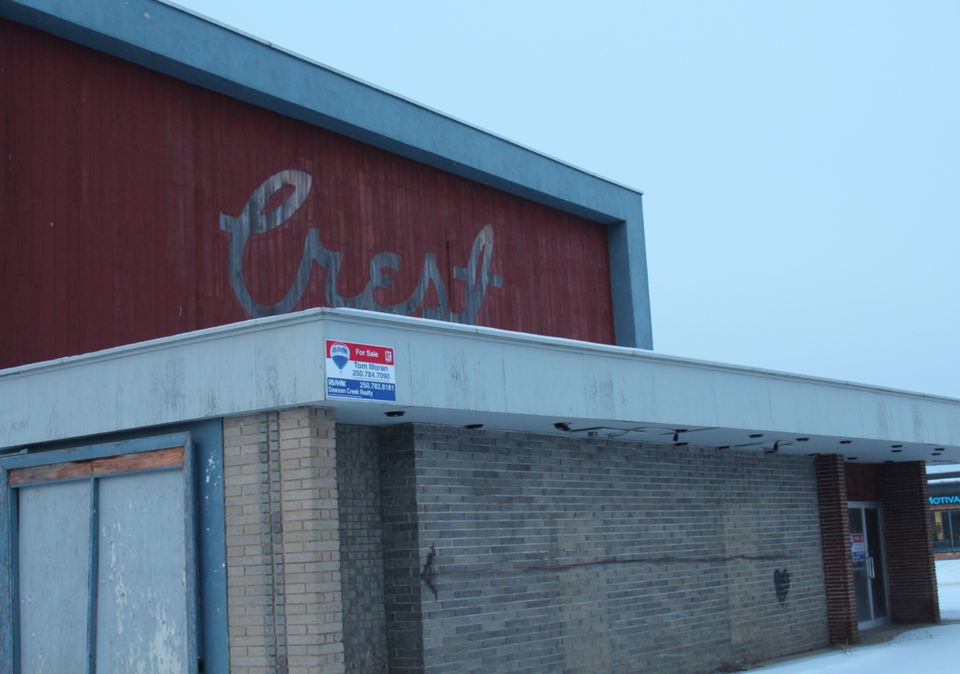 "We had people picketing the theatre," he said. "They were all sorts of complaints because it was such a blasphemous movie. So I thought I'd be sweet about it and walked outside and offered any of them to come in and watch the movie for free, so they'd have a more informed opinion."
Arnold Kreuzinger managed the theatre for its Lower Mainland-based owners, he said. A refugee from the Sudetenland whose family fled the Nazi invasion, Kreuzinger was stickler who insisted not a single lightbulb on the marquee be allowed to burn out. But he still allowed Mitchell time to do homework around exam time.  
"One time I was studying for exams and Arnold came downstairs with some paperwork and said 'I need you to do these—oh, you're doing homework? Never mind.' And he walked away," Mitchell said. "It was really fun to talk to him."
Three other long-empty structures in Dawson Creek have been demolished in the past year. 

Demolition crews removed the Grandview School, Centennial Pool and the former regional library building last summer. All of those buildings were owned by the city.  

Celtic Construction will demolish the Crest this spring, according to a city report.


"It's a piece of my childhood," said Mitchell. "I grew up going to Saturday matinees there. It was good times. There were wonderful people who worked there."
reporter@dcdn.ca