As Alex Pfeifer picked through his waterlogged basement Friday, he found a painting.  

The canvas was soggy from floodwaters that poured through the walls of his home when Dawson Creek surged over its banks last week. It shows a range of purple mountains at sunrise, with the lyrics to "Here Comes the Sun" painted in the bottom left corner.   

"My stepmom's daughter (painted) it," Pfeifer said as he cleaned up June 17. He had placed the painting on a sandbag holding open the front door to ventilate the basement.

"It was wet, but she put it there to dry," he said. "We put it out so anyone who drove by would have a little bit of a sense of well, it's not as bad as it could have been."  

Pfeifer's one of more than 100 homes damaged in what is being called the worst flood in Dawson Creek's history.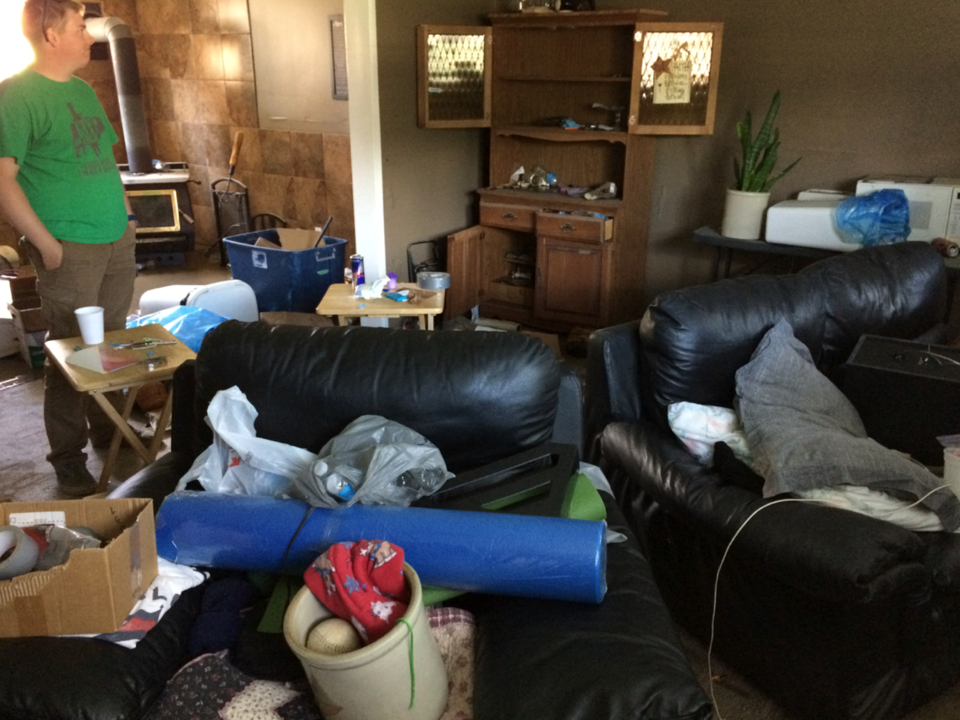 At its peak, 80 people were evacuated after a storm out of Alberta dumped a record-setting 105 mm of rain on the South Peace in 48 hours. Eighty eight mm fell on June 15, shattering every record going back to 1926, when data for the region was first collected.  
The rising creek carried debris downstream June 15, blocking the city's culverts overnight. By Friday morning, 15th Street had given way, 8th had become a waterfall and foot-high flood waters blocked 17th Street. Further downstream, the Snake Pit bypass on Rolla Road collapsed, carrying a culvert hundreds of metres downstream.

For most of Thursday morning, the city was cut in half.

Colleen Suhai was one of the hundreds who turned out Friday morning to watch the water pour over the washed-out remains of 8th Street. A white Buick teetered on the edge of the waterfall, its occupants rescued by two motorists hours before. A few people paddled canoes and kayaks on the waters upstream.

"I've been around this area forever and this is unbelievable," she said. "This is a once in a hundred thousand-year (storm)."

Across the flooded road, Inn on the Creek owner Sam Mangalji was shocked to wake up to flood waters pouring over the city's main street.

"I've been here 26 years and this is the worst I've seen," he said. "A river across 8th Street."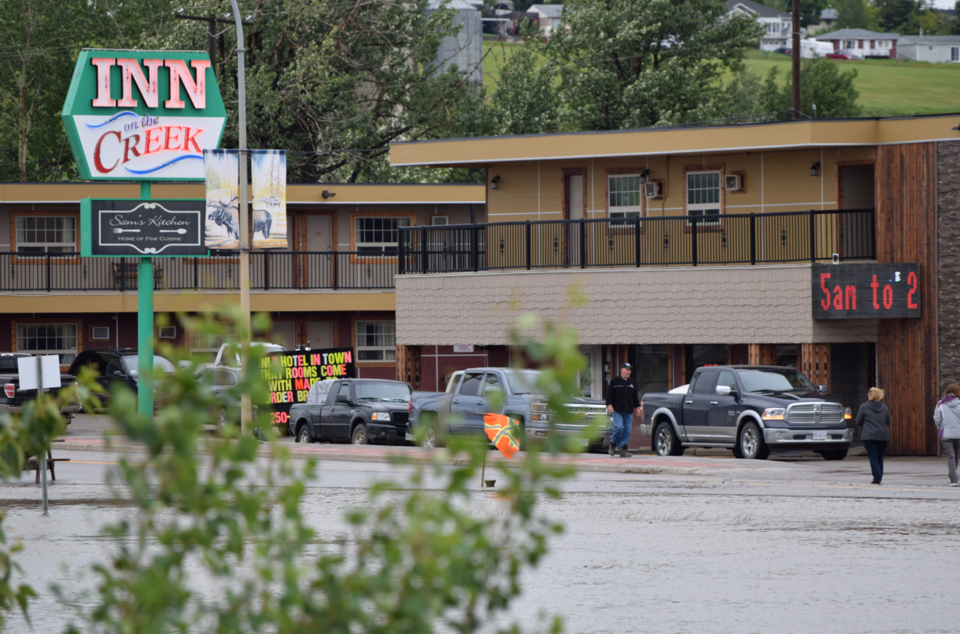 On Monday, he said both his parking lot and office had been damaged in the flood. The loss of the Pine Pass, which connects Northeast B.C. to the rest of the province, was already having an impact on room rentals.

The west end of the city was hit hardest by the rising waters.

Sarah Winstead lives with her husband Daniel in the Willowbrook town homes off 17th Street. By 3 p.m. on June 15, water had started coming into her basement.

"I was tracking it with tape to see how fast it was (coming in)," she said. "It was going up an inch every hour, and sometimes faster than that."

By 3 a.m., there were four feet of standing water in their basement. The next day, the water began to drop and it became clear the house was uninhabitable. Winstead's landlord was able to find them a new place to live—this time, on a hill.

"The musty smell in the place was really bad," Winstead said. "(My husband) has asthma, so it's not a good situation for somebody with breathing problems."

While the Winsteads were dealing with the rising water, Gerry Bergeron, owner of Bergeron Funeral Services, was sitting at home unaware that his building was taking on water.

At around 2 a.m., he got a call from a renter who lives near the funeral home.

"Our renter called to tell us that he was being evacuated by the fire department," Bergeron said. "When he told me that, I knew if (the water) was that high, I would be having problems in my building."

The rising waters forced them to move two bodies to higher ground.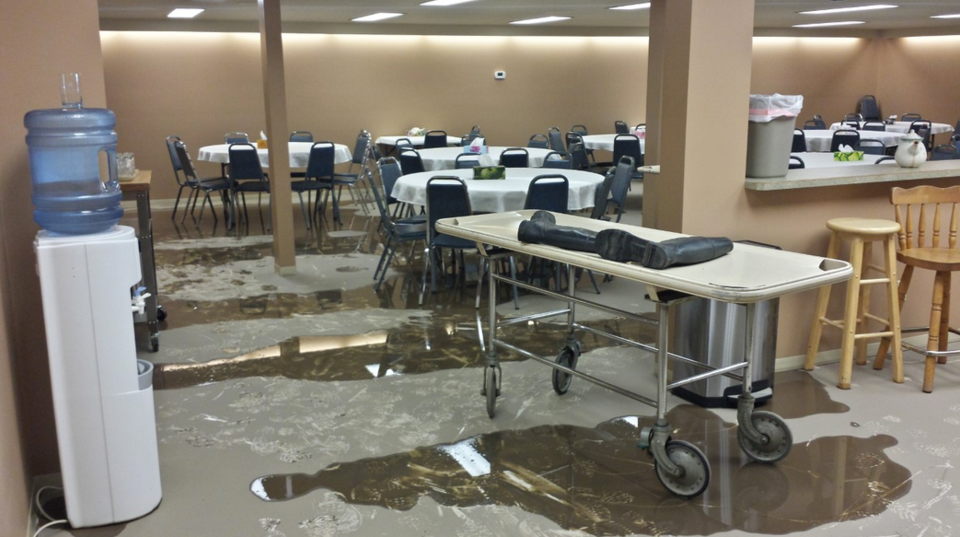 "We actually watched the water come into the building," he said. "There was nothing you could do. You can't stop it. You just have to hope you have good insurance."

Across the street, Crystal Orcutt was clearing out three storage garages the day after the flood. Many of the items inside had been damaged—mostly furnishings and electronics for apartment units she manages.

Orcutt pegged the losses at around $75,000, including five flat screen TVs. She has no insurance.

"I was chomping at the bit to get in here and see how bad the damage was," she said. "There's nothing you can do now."
Like many, she was prepared for flooding—but didn't expect worse than 2011.
"The city did a bunch of work here so I didn't think it was going to happen again," she said. "I didn't think twice about renting here for myself, because what were the odds it was going to do that again?"
                                                                                                  •••
Pfeifer, meanwhile, spent the weekend waiting for his basement to air out, moving what he could salvage out of the basement. In the coming days, he would need to strip the insulation and drywall to prevent mould.

Some of the items were completely destroyed, while others were untouched—for example, a greeting card on a wooden side table which floated upright. The paper was dry.

He said he was trying to stay positive. Something about the Here Comes the Sun painting helped.   

"There's not much I could have done, I guess," he said. "It is what it is. It's over now.

reporter@dcdn.ca