Dawson Creek officials expect sewage backups across town and potential bridge washouts as a weather system out of Alberta continues to dump rain on the city. 
"We've pretty much hit a wall," Dawson Creek Chief Administrative Officer Jim Chute said of the city's flood response. "We're starting to get sewer backups pretty much all over town because the sewer lines are full. We have washouts or overwashes in several locations." "We expect within a few hours, by 10 p.m. tonight, the creek will crest over the bridges at 17th Street and 102nd Ave." 
Up to 100 mm of rain have fallen since Tuesday evening, causing Dawson Creek to overflow its banks. The floods are threatening homes in low lying areas. The weather event mirrors floods in June 2011 that backed up sewage lines and flooded homes. But Chute said so far, the damage is not as extensive. 
"In 2011 by this point we'd already had far more flooding situations, far more property damage," he said. "This seems, so far, to have been a little more benign than in 2011."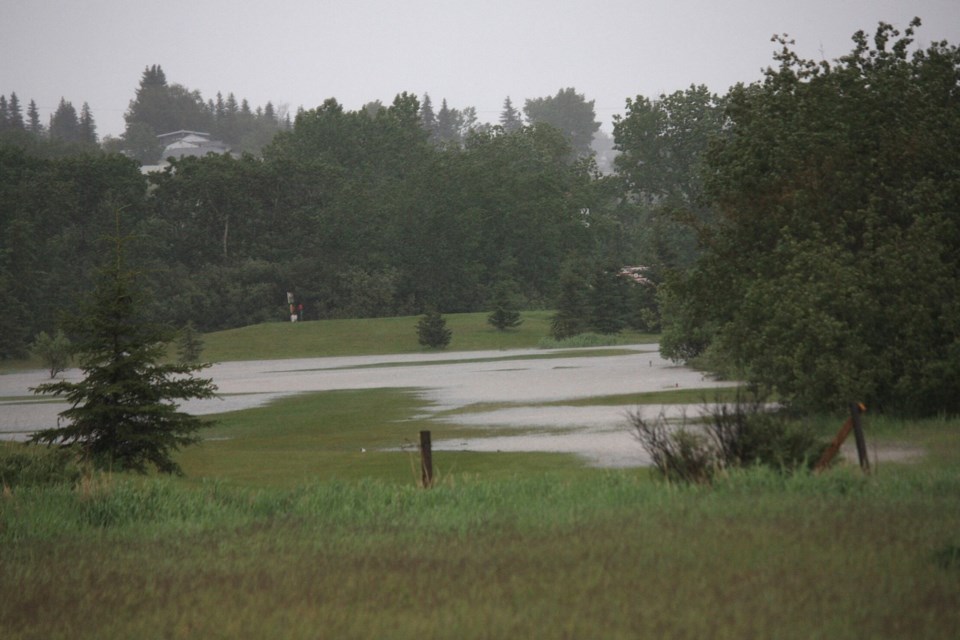 Provincial emergency responses teams expect the rain to continue through the night. The storm has closed Highway 97 at the Pine Pass, as well as Highway 52 near Arras. Chute said officials expect to close the Alaska Highway soon due to washouts near Tower Lake Road. 
The city has made upgrades to its sewer system since the 2011 floods, but Chute said a number of areas are still vulnerable to sewage backups. City contractors also recently built a bulkhead on the 10th Street bridge to prevent washouts. Chute said the bulkhead was holding as of Wednesday afternoon. 
"Thank heavens," he said. "It's shaping up to be a very similar event to 2011." 
In the Pine Pass, periods of wet snow were expected, changing to rain overnight.
Environment Canada says the rain swill start to taper off Thursday as the system moves to the northeast and weakens. Another 20-40 mm are expected by the end of June 16. 
reporter@dcdn.ca