A monument on the lawn of Dawson Creek City Hall served as a backdrop Thursday afternoon for a ceremony to mark the national Day of Mourning, a day to remember people killed or injured as a result of their jobs.
Most days, the sculpture—one of 45 permanent worker memorial sites across the province—is a static reminder of lives lost or altered. But on April 28, the site came to life to remember those no longer living.
"This is a day of great sadness and one of particular significance for so many," Stephen Tye, an occupational hygiene officer with WorkSafeBC said.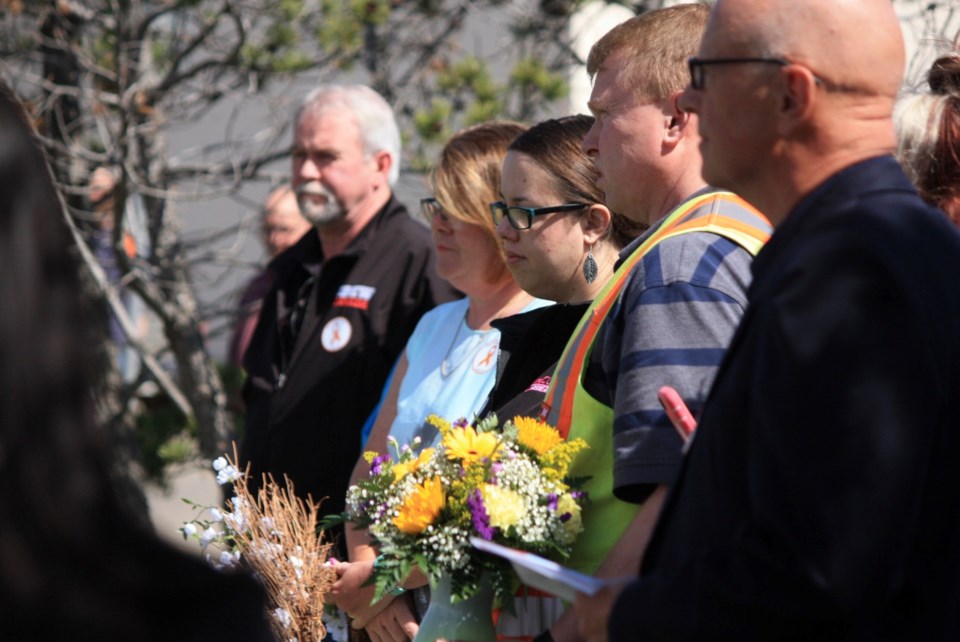 Last year, there were four work-related deaths in the Peace Region and 122 across the province.
Fifty of those province-wide deaths were what Tye called "traumatic fatalities." Forty-one were from work place incidents and nine were motor vehicle accidents.
"These are not just numbers," he said. "They represent men and women who were fathers, mothers, sons, daughters, friends, coworkers (and) neighbours."
Ceremonies took place across the country. In downtown Vancouver, the Olympic Cauldron was lit to mark the occasion. 
"It's a day to remember, but it's also a day to recommit to doing everything we can to prevent future injuries and fatalities," Tye added. 
Last March, the Peace region came face-to-face with the reality of work place fatality, when news broke that a death had occurred on a frack site north of Fort St. John. 
Jack Shawn Eyles, 28, from Kelowna, was killed when a blowout of a well occurred at a Progress Energy site. 
It was a reminder of how dangerous the energy sector jobs that largely support the region can be. 
But the sector is not the most dangerous. According to WorkSafeBC statistics, 24 deaths occurred in general construction jobs, the single most of any occupation.
This was followed by 15 deaths of workers in pulp and paper mills and 13 in transportation-related occupations.
Coun. Charlie Parslow, who spoke at the event said workplace safety is an issue that should always be on the minds of supervisors, coworkers and employers because tragedy can strike at any job.
"I am sure all of us in some way know people or have people in (our) families killed in an accident or injured at work," Parslow said. "I'd like us all to take this opportunity to renew our commitment to providing a safe work place and remember those whose lives have been lost and the families that bear that burden."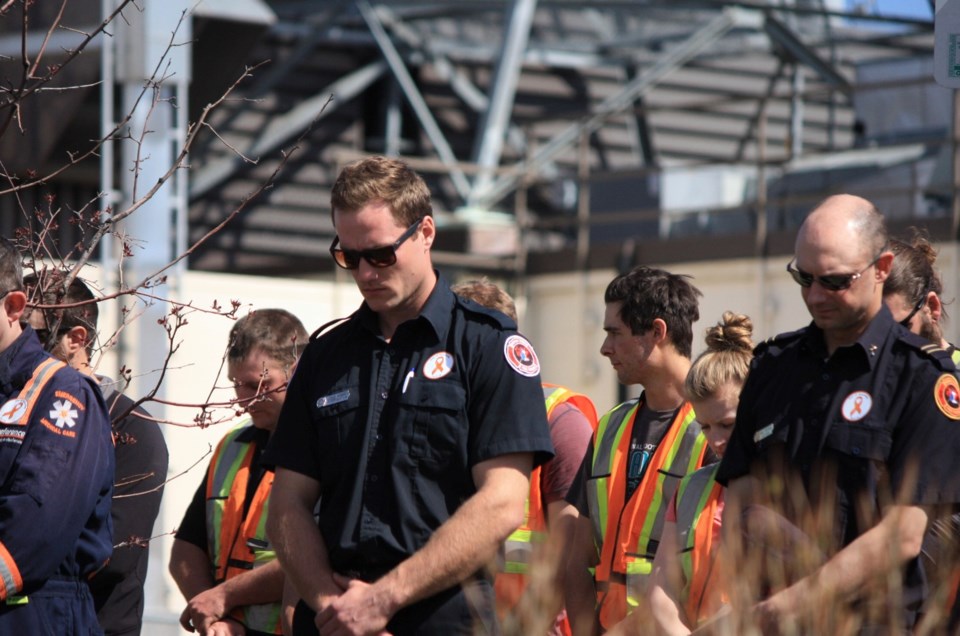 According to Tye, occupational diseases are the leading cause of deaths in the work place. These include any diseases or disorders that are caused by work or working conditions, such as exposure to asbestos. 
"We're seeing the real and devastating affects of yesterday's exposure to asbestos, today," Tye said. "Unfortunately this means the number of deaths from occupational disease may remain high for several years to come."
Out of the 122 work-related deaths in B.C. in 2015, 67 were related to occupational diseases that can be traced back to asbestos exposure, such as mesothelioma, lung cancer and asbestosis.
Work-related deaths have been on the decline in the province, Tye said. B.C.'s on-the-job injury rate is at historic lows, but he said, "we still have lots to do."
The national Day of Mourning was first recognized by the Canadian Labour Congress in 1984. In 1990 it became a national observance with the passing of the Workers Mourning Day Act, making Canada the first nation to mark a day to mourn work-related death and injury.