Dawson Creek's Royal Canadian Legion branch held a small and brief Remembrance Day Ceremony today at the Dawson Creek Cenotaph. Veterans, dignitaries, and legion members came out to show their respects on a sunny but brisk morning.
Royal Canadian Legion Branch #141 President Elizabeth Hunt and Peace River Zone Commander Barry Young conducted the ceremony, with Seargent at Arms Cde Denise Young, Cde Tara Young, Cde Chelsea Young, and Cde Heather Gorrell serving as the colour guard. Seargent Damon Werrell was in attendance representing the RCMP.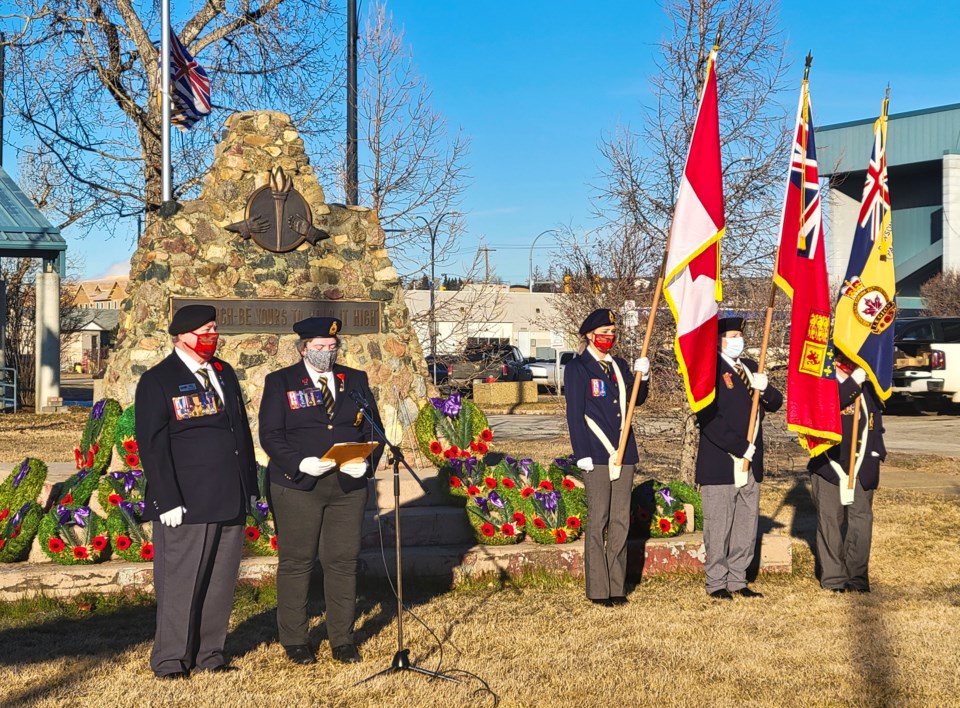 The ceremony would normally begin indoors, but was held outside due to COVID-19 public health restrictions. Despite organizers asking the public not to attend, a small number of people were spread out along the City Hall lawn next to the cenotaph.Rick Coombs aired the ceremony via live stream for those not in attendance.
The ceremony began with the playing of The Last Post and O' Canada, before Hunt said a prayer of remembrance: "Almighty God we come together today to remember past wars and to pray for peace. We thank you for the assurance of your love in time of peace and in the midst of conflict and war. We thank you for the land in which we live and for those who are willing to defend it. We especially give thanks to those who gave their lives and for those who have suffered from the physical and psychological scars of battle. May the memory of these acts of heroism inspire and encourage us as we work for peace," Hunt said.
During the ceremony, Hunt told a story about her family, and the ring she wears in remembrance every day.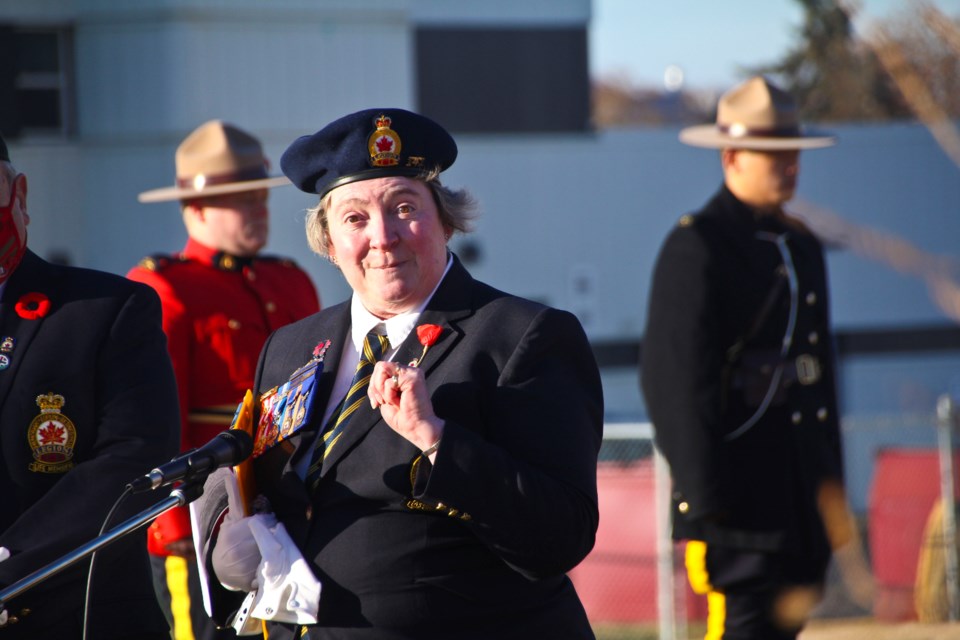 Her Uncle Jim was a gunner for the Canadian Air Force, dying in battle. His death inspired her father to join the armed forces as well.
"He always said it was the worst day of his life when he had 'unfit for service' stamped on his file because he came down with tuberculosis and they sent him home, which was good for me, because I'm here," Hunt said.
Her Uncle Jim's fiance decided to give her ring back to Hunt's grandmother, recognizing that the family was in need. In time, she passed it along to Hunt's father, who later passed it on to his daughter Elizabeth.
"Every day I think of my Uncle Jim, but especially on this day, and I think him and my cousin Jamie for their service and sacrifice," Hunt said. "I hope that each and every one of you can take a moment today especially, to remember those who have given their all for us to be able to stand here and observe a few moments, and thank them for their sacrifice."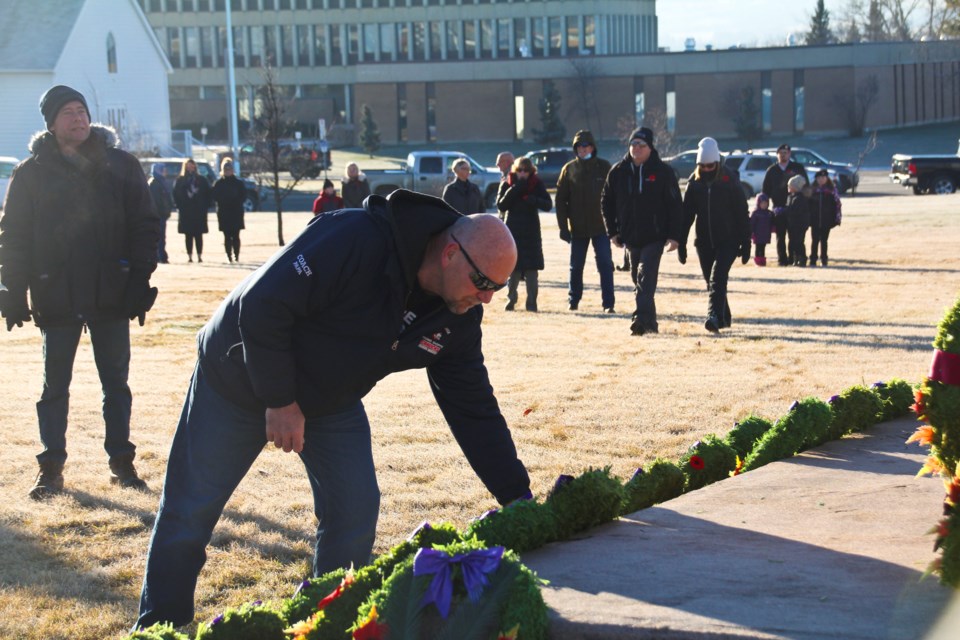 Though the wreaths were already laid prior to the service, Hunt dedicated the wreaths during the ceremony, with members of the public laying poppies at the cenotaph at the end of the ceremony.
Hunt concluded the ceremony by saying, "Thank you to everyone for coming today, we appreciate your presence, and your remembrance on this day for our fallen. And now go home and get warm."
---
Email reporter Dillon Giancola at sports@ahnfsj.ca