Cindy Lou Potter was living in a construction camp north of Fort St. John when she got the call from her radio promoter.
She'd made Billboard. 
Last month, Potter's single "Tragic" debuted on Billboard's Mainstream Indicator Chart—one step before the Top 40.  
It was a surreal moment for the Dawson Creek native—who performs as Lou Potter—who for the first time is seeing her name next to Taylor Swift and Jason Derulo. 
"Most of my co-workers were like 'you're mopping floors and running heavy equipment and you just made the Top 40,'" she told The Mirror. "I was super stoked. I've been doing this for a few years, and it's a really hard industry to break into."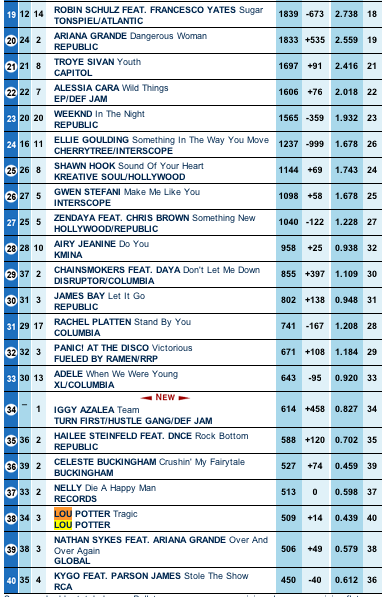 As of April 2, the single had been played 495 times on mainstream Top 40 radio in the U.S., reaching 431,000 listeners. The song has climbed two spots in two weeks, from 36 to 34, and currently sits one spot behind a new single from rapper Nelly. 
Potter grew up on a farm on the Braden Road, where her family raised "cattle, sheep, horses, cats, dogs, pigs and chickens." Her earliest musical experience came with the Kiwanis Kid's Choir, which she sang with until graduating. In high school, she was part of an all-girl metal band known as Salient. 
After high school, Potter went to college on a hockey scholarship, where she studied trades. In 2007, she moved to Vancouver to pursue music full time. 
"I went down there because there's a lot more people, and the arts scene is a lot more predominant," she said. "It's comparable to L.A.—people sometimes bounce back and fourth. I kind of just wanted to see where music would take me—start with a band, start booking gigs, and then writing music and getting in the studio."
She would go on to put together five bands. She was eventually offered the lead singer gig for the band at the Roxy Cabaret, which she turned down to work on her own music.  
Eventually, she hired a radio tracker to shop her singles to radio stations in the U.S. and Canada. While she's had some minor breakthroughs in Canada—including a nomination as Bell Media Artist of the Month—"Tragic" has found more traction in U.S. markets. 
"It's not my own story," she said of the song, which she co-wrote with her producer. "I was in a really good relationship. It's basically her story of a tumultuous, abusive relationship—and she just kept going back to this guy who was abusing her." 
In the meantime, Potter has come back to the north to make some money. She currently operates an all-terrain forklift known as a zoom boom. When the Mirror reached Potter, she was in camp and speaking from a signal-boosted cellphone. 
What's next is unclear. "Tragic" has stuck around on the charts for two weeks, and whether it will make the jump from the indicator charts remains to be seen. For now, the plan is to continue recording and shopping singles. 
"The only thing I really want to do is make music," she said. 
reporter@dcdn.ca